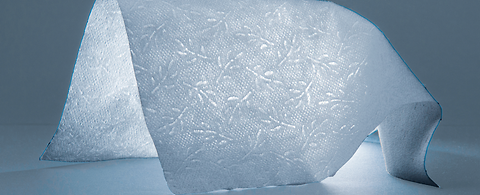 ANDRITZ presents comprehensive solutions for the production of technical textiles and nonwovens at Techtextil Moscow 2016
2016/02/28
International technology Group ANDRITZ will present its latest process innovations for the production of nonwovens and finishing of technical textiles at Techtextil Moscow from February 24 to 26, 2016 (Booth 3 E45).
High production capacity and flexibility in technical textiles
For manufacture of technical textiles, ANDRITZ Nonwoven has developed an innovative calender concept incorporating proven technologies from the production of paper and nonwovens. The teXcal trike, a 3-roll calender with a triangular roll arrangement, provides high production capacity and flexibility in technical textiles. Two either identical or different deflection-controlled rolls allow individual pressure adjustment. In addition, a closed-loop system facilitates inline product quality measurement.
Complete needlepunch solutions for durables markets
ANDRITZ Nonwoven offers complete process solutions with its neXline needlepunch technology. The demand for this process has been rising considerably due to growth in the automotive, filtration, and geotextile industries. The ANDRITZ eXcelle and aXcess series provide cards, crosslappers, and needlelooms for medium and high production capacities. In the eXcelle line solution, the new high-speed dynamic crosslapper D.630 can increase the capacity of the needlepunch production line. In combination with the ProDyn system, this crosslapper is capable of achieving an infeed speed in excess of 200 m/min. Regarding the web characteristics and fiber savings, the ProDyn system delivers equal strength performance in both directions with excellent fabric resilience.
Turnkey spunlace lines with high energy efficiency
Meeting various producers' needs, ANDRITZ Nonwoven offers turnkey spunlace lines with a high energy efficiency ratio and a wide range of solutions. Whether end customers require durable or disposable products, ANDRITZ supplies complete turnkey spunlace lines from a single source. The neXline spunlace is a proven solution with highly efficient use of resources and is available over a wide range of capacity and product applications. In terms of energy, the neXecodry system is an efficient drying solution for spunlace lines. After several years of development and field tests, this latest development (only available for ANDRITZ neXdry and Perfodry through-air dryers) has been launched on the market with positive customer feedback.
ANDRITZ Nonwoven has invested in new state-of-the-art technical centers in Elbeuf and Montbonnot, France, and Krefeld, Germany. Complete pilot lines and individual equipment for spunlace, needlepunch, wetlaid/wetlace, bonding, and finishing are available for customer trials and have already led to innovative process solutions.
– End –

The ANDRITZ GROUP
ANDRITZ is a globally leading supplier of plants, equipment, and services for hydropower stations, the pulp and paper industry, the metalworking and steel industries, and for solid/liquid separation in the municipal and industrial sectors. The publicly listed technology Group is headquartered in Graz, Austria, and has a staff of almost 25,000 employees. ANDRITZ operates over 250 sites worldwide.