United States of America - Hydropower for the Pioneers of Electricity
The United States of America are one of the largest producers of hydropower in the world.
Around 6% of the nation's electricity has been provided by conventional hydropower over the last few years, with an estimated 260 TWh/year of hydropower generation in 2014.

While it is difficult to identify the total theoretical hydro potential in the US, if all potential sites were fully developed there would be at least an additional 512 GW of installed capacity. Estimates suggest that there is around 497 TWh/year of gross potential and some 153 GW of technically feasible hydropower potential.

Extensive and complex regulatory pro­cedure and strong environmental conflict may seriously impede the development of new hydropower. Therefore the focus is on refurbishment and modernization of existing facilities and on adding power to non-powered dams. In addition, the government aims to promote the development of renewable energy resources, including small hydro. However, transmission issues pose a limitation to new plants and renewable energy projects. Energy storage, including pumped hydro storage, could be a possible solution.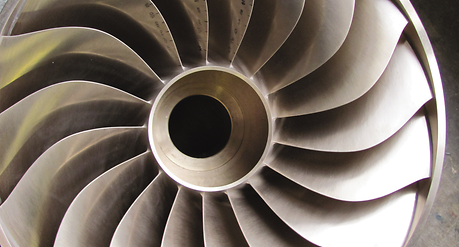 ANDRITZ HYDRO in the US
ANDRITZ HYDRO has run an office in Charlotte, North Carolina, since the early 1990s, and the company's experience in the US market is well established. The reference list of projects includes major rehabilitation projects located on the key waterways of the US such as the Mis­sissippi, Arkansas, Tennessee, Colorado, Susquehanna, and Columbia rivers. ANDRITZ HYDRO is the OEM to over 35% of the installed base of hydro units in the US and has refurbished 70 units in the US, with a combined output  of more than  43,000 MW, representing about 54% of fleet share of the countries total installed capacity. In 2010, ANDRITZ HYDRO acquired the majority shares of Precision Machine and Supply Inc. in Spokane, Washington, adding a manufacturing facility to its portfolio to provide even better services to customers.

Over the years ANDRITZ HYDRO has been involved in many major US hydropower projects, such as HPP Grand Coulee (6,809 MW), HPP John Day (2,160 MW), HPP Niagara (2,515 MW), HPP Hoover Dam (2,080 MW), HPP McNary Dam (980 MW), and HPP Rock Island Dam (980 MW).
HPP Olmsted:
Central Utah Water Conservancy District (CUWCD) has contracted ANDRITZ HYDRO to provide two turbine-generator units, auxiliary mechanical equipment, electrical controls, a single buried penstock, and construction of a new power transmission line for the 11.2 MW Olmsted hydropower plant. It is one of the oldest facilities in the western US and is the centerpiece of the Telluride Institute of Learning. All works will be executed whilst preserving the existing historic powerhouse. The project is scheduled to be finalized at the beginning of 2018.
HPP Lower Monumental Dam:
In July 2015, the U.S. Army Corps of Engineers, Walla Walla District, awarded a contract to ANDRITZ HYDRO for generator rewind and turbine cavitation repairs at the HPP Lower Monumental Dam (810 MW).  It is one of the four major hydropower plants on the lower Snake River in Washington State. The entire project is expected to be completed by May 2017. 
HPP Bear Swamp:
ANDRITZ HYDRO was  awarded  a  contract  for  a  sta- tor rewind at Brookfield Renewable's Bear Swamp Pumped Storage Plant in Florida, Massachusetts. The contract includes a 10% uprate in generating/ pumping capacity. Commissioning takes place in 2016.
HPP Safe Harbor:
In September 2013, Safe Harbor Water Power Corp. assigned a contract to ANDRITZ HYDRO for the refurbishment of two 80 year old generators (unit #3 and #7) at the Safe Harbor hydropower plant in Penn­syl­vania. This is the first large scale hydro service contract for ANDRITZ HYDRO on the Susquehanna River, one of the largest rivers in the northeastern US. ANDRITZ HYDRO will supply new generator stator frames, cores and windings, new rotor spiders and rims, refurbished rotor poles and bearings, unit disassembly, installation, and unit reassembly.

In November 2015, ANDRITZ HYDRO was awarded a refurbishment contract of two further generators (unit #1 and #2). ANDRITZ HYDRO will supply new stator cores, clamping assemblies and multi-turn windings, including rotor pole testing, bearing inspections, unit disassembly, installation and unit reassembly.  ANDRITZ HYDRO is the original equipment manufacturer of all 14 units in the powerhouse.
HPP Rock Island:
ANDRITZ HYDRO received an order from Chelan County Public Utility District for four units at the Rock Island run-of-river hydropower  plant on the Colombia River in Washington State in 2014.  ANDRITZ HYDRO is replacing four generator stators, along with new rotor rims and rotor poles, while overhauling three existing Kaplan runners. One unit will receive the new ANDRITZ HYDRO-designed stainless steel runner and wicket gates. Com­ple­tion of the project is scheduled for the end of 2020.
HPP Belden:
The Belden hydropower plant is owned by Pacific Gas and Electric Company (PG&E), the largest private owner of hydroelectric facilities in the US, and located in the state of California. The turbine rehabilitation project includes a new runner, new discharge ring, upper draft tube, wear rings and wicket gates. The installation should take place end of 2016.

ANDITZ HYDRO in the US offers expertise and know-how to fully serve the market for large new units and  smaller compact hydro units including automation. Rehabilitation and upgrading of existing plants remain the core business in meeting the needs of the US market.