Central America and Caribbean Islands - A Growing Economy through Green Energy
After peace came to Central America in the mid-1990s, the region experienced a lot of social reforms and transformations resulting in steady economic growth. Millions of people were freed from poverty.
The population's access to electricity was increased to an average of about 85% as of today.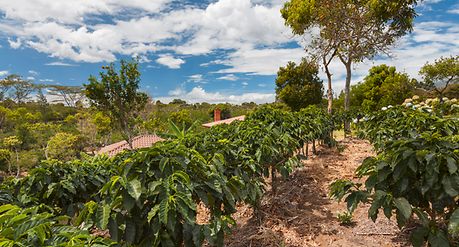 To increase access to electricity even further electricity costs have to be reduced. With strong mandates from the government and the need to further strengthen the economy in order to stay competitive in a challenging global market, reshaping of the energy sector is required. Privatization, private investments, international loans, and the need to increase the use of renewable resources in order to become independent of fossil fuels is encouraging the development of energy projects - mainly hydropower.

The Central American Electrical Interconnection System (SIEPAC) is the interconnected power grid of Panama, Costa Rica, Honduras, Nicaragua, El Salvador, and Guatemala. It connects about 40 million people and the network includes a 1,790 km-long, 230 kV transmission line with a capacity of 300 MW and with an extension potential of up to 600 MW. The goal of this network is to alleviate periodic power shortages in the region, reduce operating costs, optimize shared use of hydroelectric power, create a competitive energy market in the region, and attract foreign investment in power generation and transmission systems.

Hydropower potential on the Caribbean Islands is not very large. The focus is mainly on small hydropower plants. On average only three-fourths of the population has access to electricity. The islands depend strongly on imported fossil fuels like diesel for their energy. There is a great need to develop alternative renewable energy sources, such as wind, solar, geothermal, small hydro, and ocean kinetic.
CENTRAL AMERICA AND CARIBBEAN ISLANDS FACTS

| | |
| --- | --- |
| Population | 88.5 Mio. |
| Installed hydro capacity | 6,562 MW |
| Hydro capacity under construction | 1,428 MW |
| Hydro Generation | 23,717 GWh |
| Technically feasible hydro generation potential | 106,432 GWh                |


ANDRITZ HYDRO

| | |
| --- | --- |
| Installed or rehabilitated units | 196 |
| Installed or rehabilitated capacity | 4,476 MW |
| Share of total installed capacity | 68.21% |

Source: Hydropower & Dams World Atlas 2015 and the World Bank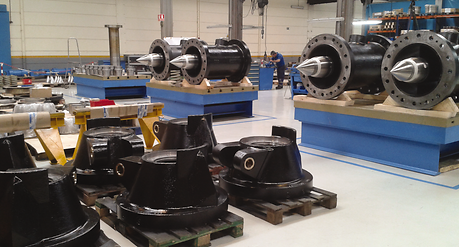 Country Reports
EL SALVADOR - 5 de Noviembre
Comisión Ejecutiva Hidroeléctrica del Rio Lempa (CEL) awarded ANDRITZ HYDRO an order for the supply of electro-mechanical equipment for the expansion of HPP 5 de Noviembre. The scope of delivery comprised two 41 MW Francis turbine units with generators, the control system, and auxiliary equipment.
PANAMA - Barro Blanco
HPP Barro Blanco is located on the Tabasará River, in the province of Chiriquí. ANDRITZ HYDRO is responsible for engineering, manufacturing, transportation, erection, and commissioning of two vertical Kaplan turbines and generators. For ecological flow a horizontal Francis turbine, a butterfly valve and a generator are also part of the project. The contract was awarded to ANDRITZ HYDRO by UTE Tabasará, a subsidiary of Cobra, a company based  in Spain, in January 2012. The owner is Generadora del Istmo, S.A. (GENISA). The main turbine components were manufactured by ANDRITZ HYDRO Spain.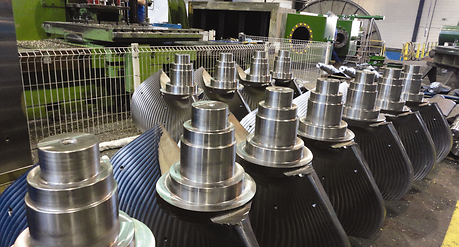 DOMINICAN REPUBLIC - Hatillo
ANDRITZ HYDRO has received an order for the 10.7 MW Hatillo hydropower plant located on the Rio Yuna in the Dominican Republic. In order to increase the output of the existing plant, the owner, Empresa de Generación Hidro­eléc­trica Dominicana (EGEHID), decided to add an additional new powerhouse with a new generation unit to the existing hydropower plant.

ANDRITZ HYDRO's scope of supply comprises a new penstock with a bifurcation, new gates for the spillway, a crane for the new powerhouse, and the rehabilitation of an existing draft tube, as well as erection of the previously by ANDRITZ HYDRO delivered components such as turbine, generator and power transformer. ANDRITZ HYDRO is going to supply new hydraulic power units, control equipment, SCADA system, Electrical Power Systems, and fiber optic and lightning systems for the new powerhouse. Erection, erection supervision, commissioning, and training are also part of the contractual scope. The project is scheduled to be completed by the end of March 2017.
GUATEMALA - Renace 4
In March 2016, ANDRITZ HYDRO received an order from Cobra Infra­estructuras Hidráulicas S.A. for the supply, transport, erection, and commissioning of two 28 MW Pelton turbines for the Renace 4 hydropower plant. The project, located on the Bajo Canlich River, is part of the Renace Hydroelectric Complex, which will become together with Renace 1, 2 and 3 the largest hydroelectric com­plex in Guatemala, with a total installed capacity of 300 MW.

The contractual scope for ANDRITZ HYDRO includes two six-nozzle, vertical shaft turbines, hydraulic power units, cooling water system, penstock connection pipes, main inlet valves, and ge­nerators. The manufacturing and pre-assembly of the main turbine components will be done in ANDRITZ HYDRO's workshop in Spain.

The Provisional Acceptance Certificate (PAC) for this project is scheduled to be issued in February 2018.

After the successful execution of previous orders for HPP Renace II in 2012 (120 MW) and Renace III in 2014 (66 MW), this new order further strengthens ANDRITZ HYDRO's strong position in the Guatemalan market.
NICARAGUA - Centroamérica and Carlos Fonseca
In October 2015, the company signed a contract with Empresa Nicaragüense de Electricidad (ENEL) for the renovation of HPP Carlos Fonseca (54.4 MW) and HPP Centroamérica (50 MW), the two biggest hydropower plants in the country.

ANDRITZ HYDRO will supply new equipment for the electrical system, protection, excitation, control and automation system, communication system, coo­ling system, firefighting system, and instrumentation, as well as repair and rehabilitation works for spherical and butterfly valves, gates, and cranes. The contractual scope of the services comprises design, manufacturing, delivery, disassembly and assembly, commissioning, and turbine efficiency and cavitation studies. Commissioning for HPP Carlos Fonseca is scheduled for summer 2017, and for HPP Centroamérica in spring 2018.



Please note:
Central America refers to: 
Guatemala, El Salvador, Honduras, Nicaragua, Costa Rica, and Panama
Caribbean Islands refer to: 
Lucayan Archipelago, Greater Antilles, Lesser Antilles, Windward Islands, and Leeward Antilles