Costa Rica - The Country of Renewable Power
Hydropower is essential to the economic development of Costa Rica.
Although the electrification rate of Costa Rica is more than 99% and therefore the highest in Central America, electricity demand is continuously increasing, estimated at 4% annually over the next decade.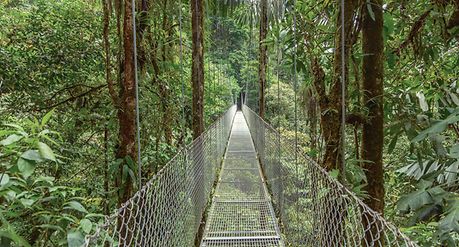 Costa Rica has a total installed hydropower capacity of 1,834 MW, providing about 6,720 GWh/year, which repre­sents more than two thirds of the nation's total power production.

To meet the needs of an expanding population, increased rural electrification and growing demand for power, the further development of hydropower resour­ces is being promoted.
ANDRITZ HYDRO in Costa Rica
As far back as 1913, ANDRITZ HYDRO had already delivered electro-mechanical equipment to Costa Rica – for HPP Paraiso. Since then, most of the country's major hydropower projects could be added to the company's reference list; HPP Reventazon (305 MW), HPP Angostura (180 MW), HPP Cachi (158 MW), HPP Pirris (140 MW), and HPP Rio Macho (140 MW).
HPP Los Negros II:
In 2015, ANDRITZ HYDRO won a contract for the new Los Negros II hydropower plant, owned by Empresa de Servicios Publicos de Here­dia, S.A. (ESPH). After the successful realization of HPP Los Negros in 2004, also equipped by ANDRITZ HYDRO, and its subsequent reliable operation ever since, the owner decided to build a second power plant in this region as part of a strategy to expand its energy generating resources.

ANDRITZ HYDRO's scope of supply comprises the delivery of two horizontal Francis turbines, each with a capacity of 14.31 MW, including butterfly valves (DN1800), hydraulic power units, supervision of installation, as well as commissioning. HPP Los Negros II is scheduled to be put into commercial operation in 2017.

Due to the well-developed hydropower resources in the country, last year Costa Rica ran 250 days on renewable power alone, achieving an impressive goal. ANDRITZ HYDRO is proud to be able to contribute to this achievement.
COSTA RICA FACTS

| | |
| --- | --- |
| Population | 4.808 Mio. |
| Access to electricity | 99.5% |
| Installed hydro capacity | 1,834 MW |
| Hydro capacity under construction | 421 MW |
| Share of generation from hydropower | 66% |
| Hydro generation | 6,720 GWh |
| Technically feasible hydro generation potential | 30,412 GWh                |

Source: Hydropower & Dams World Atlas 2015 and the World Bank