Bolivia - Great Prospects for Hydropower
In 2015, the Bolivian government passed an investment law in order to improve the investment climate and hence boost energy production.
It set a target that by 2025 70% of domestic electricity should be generated by renewable energy sources, mainly hydropower.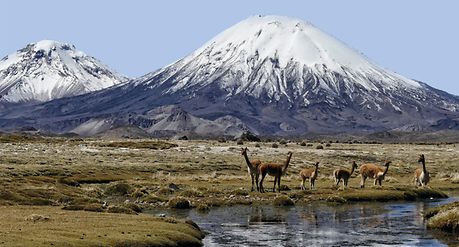 Estimates suggest a hydropower potential of more than 38,000 MW, almost 80% of which is found in the Amazonian region. Possible sites for hydropower facilities are being investigated and some major plants are planned. The aim of the government is to generate enough energy to export it to the neighboring countries Brazil, Peru and Chile.
ANDRITZ HYDRO in Bolivia
As far back as 1910 ANDRITZ HYDRO delivered electro-mechanical equipment to Bolivia for HPP Potosi. In the following 106 years the company has installed or modernized more than 60 units with a total capacity of 400 MW. This represents almost three-quarters of Bolivian's hydropower fleet.

HPP San José I and II: In February 2015, the EPC contractor POWER­CHINA Kunming Engineering Corporation Limited awarded a contract to ANDRITZ HYDRO for the San José hydroelectric complex in Bolivia. The run-of-river plants San José 1 (two 28 MW Pelton units) and San José 2 (two 35 MW Pelton units), owned by Bolivia's state-owned power utility Empresa Nacional de Electricidad (ENDE), are part of the expansion plan for the Corani Basin. ANDRITZ HYDRO will supply design, manufacturing, delivery, installation supervision, and commissioning supervision of the four Pelton turbines. The project is scheduled to be put into operation by the end of 2017.

ANDRITZ HYDRO was involved in most of the major hydropower projects in Bolivia such as HPP Rio Taquesi, one of the major projects of Hidroeléctrica Boliviana, or the modernization of various other important HPP's, which the company has successfully finished and commissioned in the last years. The expansion project of the fifth unit of HPP Santa Isabel of Corani Company - currently the biggest hydropower plant in Bolivia - and the order for the new HPP Huaji in the Zongo Valley near La Paz for costumer COBEE underlines the continued success of ANDRITZ HYDRO in the country.
BOLIVIA FACTS

| | |
| --- | --- |
| Population | 10.73 Mio. |
| Access to electricity | 90.5% |
| Installed hydro capacity | 563 MW |
| Hydro capacity under construction | 247 MW |
| Share of generation from hydropower | 32% |
| Hydro generation | 2,515 GWh |
| Technically feasible hydro generation potential | 126,000 GWh |


Source: Hydropower & Dams World Atlas 2015 and the World Bank