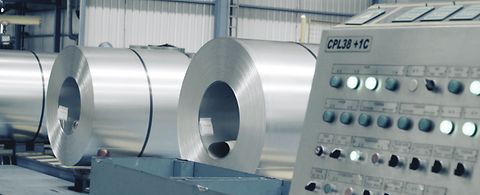 ANDRITZ METALS
Market leader in many areas based on centuries of tradition and innovative spirit
Future-oriented technology from a reliable partner - ANDRITZ Metals
Technologies of ANDRITZ Metals lie behind many products, for example: aerosol cans for personal hygiene products and cosmetics, beveragecans, stainless steel handrails, ceramic cooktops, cooking pots, cutlery, dishwashers, elevators, railway wheels, microwave ovens, pans, screws, sinks, stainless steel façades, stoves, surgical instruments, washing machines, wires, a wide selection of important automobile components, and many more.
ANDRITZ Metals is one of the leading global suppliers of complete lines for the production and processing of cold-rolled strip made of carbon steel, stainless steel, aluminum, and non-ferrous metal. The lines comprise equipment for pickling, cold rolling, heat treatment, surface
finishing, strip coating and finishing, punching and deep drawing, and the regeneration of pickling acids. The business area also supplies turnkey furnace systems for the steel and aluminum industries, as well as welding systems for the metalworking industry.
All required processes come from one supplier – from engineering to start up. The performance packages cover complete lines, modernization, as well as special machines. The companies belonging to ANDRITZ Metals utilize the synergy effects of the group to the benefit of their customers and deliver machines and lines of highest quality and optimum operational efficiency. ANDRITZ Metals clearly leads the market for stainless steel and aluminum strip processing lines, as well as for and batch-type furnaces used in highly specialized forging shops. In this field, customers are mainly looking for complex reheating furnaces and tempering systems; railway wheel tempering systems are a specialty here. In copper melting, ANDRITZ Metals is one of the very few global suppliers to the primary and secondary copper refining sectors.
The name ANDRITZ Metals stands also for highest quality in metal forming technology. Alongside standard machines like mechanical automatic punching and metal forming presses from 630 to 25,000 kN and SERVO presses from 1,000 to 25,000 kN, we deliver tailor-made solutions for every application – from the simple press to complete production lines with coil handling units and automation systems.
ANDRITZ Metals ensures lifecycle services during the entire lifetime of the product, including revamp, retrofit, improvement of plants, and process optimization.
METALS and Schuler - a strong team for the industry
The Schuler Group, Germany, in which ANDRITZ has a stake of more than 95% and which is fully consolidated as from March 1, 2013, is also allocated to the business area. As technological and global market leader in metalforming, Schuler supplies machines, production lines, dies, process know-how, and services for the entire metalworking industry. Its clients include car manufacturers and their suppliers, as well as companies in the forging, household equipment, packaging, energy, and electrical industries. Schuler is also the market leader in coin minting technology and offers system solutions for the aerospace and rail industries.