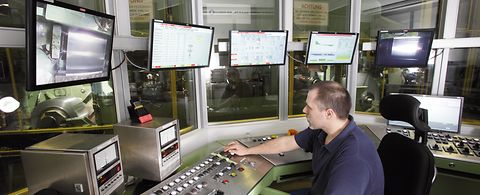 Modernization of a 20-high reversing mill at Hugo Vogelsang, Germany
The 20-high reversing mill at Hugo Vogelsang GmbH & Co. KG was modernized extensively by ANDRITZ Sundwig.
The entire control electronics now comply with the latest state of the art. In addition, the drive and control systems were completely renewed and all the drive motors overhauled. Following modernization, strip thickness variations of 1-2 µ and flatness deviations of 4-6 I-units are now achieved.
The complete control electronics now correspond to today's state-of-the-art equipment.
Moreover, the drive and control systems have been replaced, and all drive motors completely overhauled. A modular and digital control system consisting of automatic thickness, strip shape and strip tension controls, as well as a strip guiding system are now being used as a replacement for the previous line control system.
The automation system deals with coordination of the classic sequence and media control, as well as including a technological process computer to ensure optimum production. Operation of the line is controlled from a centralized, air-conditioned, main control stand. For
this purpose, the rolling mill operator is assisted by a comprehensive process visualization system as well as a video system. Extension of the fault indication and evaluation tools permits a prompt analysis of any deviations occurring, as well as contributing to line process optimization and improved maintenance.
In designing the main control stand, particular attention was directed to the ergonomic design of the working environment. The hydraulic screw down of the mill and the control device for inter-mediate roll shifting were also renewed at the same time. The horizontally adjustable steering rolls added in the entry and exit sections enable simple rolling
of wedge-shaped strip. In order to optimize the strip guiding system, the entry and exit tables were re-machined. In the mill stand itself, the cooling and spray plates were optimized and the rolling oil cooling system provided with a new filtration system.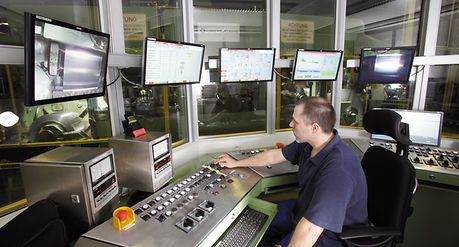 Project details
| | |
| --- | --- |
| | |
| Strip thickness      | 0.04 mm-3.5 mm |
| Strip tensions | 6 kN-180 kN |
| Strip speed | 500 m/min. |
| Material | C-steels and alloyed steels |
| Rolling force | 2,400 kN |
| Drive power | 2 x 450 kW |