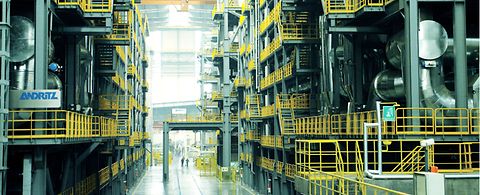 ANDRITZ and HBIS: A Long History of 20 Years
ANDRITZ Metals USA Inc. (formerly Bricmont) delivered the first two furnaces to Hebei Iron and Steel (HBIS) around 20 years ago. Meanwhile the HBIS Group has become China's largest supplier of home appliance steel, the second largest for automotive steel, and the leading steel supplier for marine engineering, bridges and construction. Metals is proud to be able to accompany this development.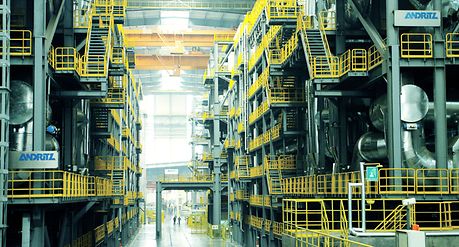 HBIS high-strength automotive strip project (THSAS)
The HBIS Tangsteel high-strength automotive strip project is the largest product upgrade project in Tangsteel's twelfth five-year program. The aim of this program is to optimize the product structure and hence, to accelerate the company's transformation and comprehensively improve its ability to compete on the market. In the end, the annual capacity of the THSAS will be 1800 kt, including 750 kt of annealed and 1,050 kt of hot-dip galvanized products. These products will mainly be used to produce world-class level, high-strength automotive strip, deep-drawing steel and household appliances, automotive parts, machinery manufacturing and high-quality appliances, and so on.
Phase one of the THSAS project consisted of a pickling line and tandem cold-rolling mill (PLTCM), a continuous annealing line (CAL) and a continuous galvanizing line (CGL), amongst other lines and equipment. In April 2013, the order was awarded to a consortium, ANDRITZ was part of it. for construction and installation of one CAL furnace and the CGL no. 4 furnace.
In August 2015 during phase two of the THSAS project and within the same consortium, ANDRITZ Metals France SAS received the order for CGL nos. 5 and 6, followed by a revamp of CGL5 with some modifications to the heating, but mainly after the pot cooling section to enable the production of zinc-magnesium coating (ZAM). The preliminary acceptance certificate (PAC) for both furnaces was issued in June 2019 and followed by the final acceptance on August 10th, 2020.
The CGL no. 5 furnace in detail
This furnace has a compact and flexible design for both thin and narrow strip. The highly efficient preheating section is followed by a radiant-tube heating and soaking section (RHS/S) that uses thin 3 mm radiant tubes. Until now, this technology has mainly been used in Europe and the USA, but only at very few locations in China. The advantages of this design are obvious:
very low heat inertia
flexible and much faster product changes
low fuel consumption
The heating and holding sections are followed by rapid jet cooling (RJC), which was developed successfully for premium-quality steelmakers in Germany for high-strength dual-phase steel (HSS DP) with 800 MPa. The steering units, multiple hot bridle rolls at the furnace exit and the snout have been adapted and customized to produce thin strip with a high-quality surface and good shape. The zinc pot and the air knife after the pot cooling area have been specially designed for Zn-Al-Mg (ZAM) coating.
The CGL no. 6 furnace in comparison
The CGL6, which is very similar to the CGL4 furnace in phase 1, has a large capacity and a robust design for the production of exposed automotive HSS sheet. The preheating section is equipped with a two-stage heat exchanger for best heat recovery efficiency and energy savings. In addition, the RTH/RTS section including pre-oxidation has already been developed successfully for the furnace at TAGAL in Pangang for high-strength steels that are rich in Si and Mn, with the aim of achieving the best coating wettability. Differential rapid-jet cooling (DRJC) with highest rapid cooling rates in combination with our well-proven slow-jet cooling technology for strip temperature are used in a non-explosive atmosphere containing only 5% H2. An inductor heater at the snout exit ensures deep cooling and special Al-Si coating temperatures. For galvanized and Al-Si sheet with different coatings used especially for hot forming, we use our APC multi-type cooling module design.  
The end product of the 4 furnaces is automotive HSS and exposed thin strip with various coating surfaces, e.g. pure Zn, Al-Si or Zn-Al-Mg. State-of-the-art technologies have been used to design furnaces capable of producing sheet steel with a thin coating layer, providing the best corrosion protection properties as well as the stable and high-performing mechanical properties required for such use. This cold rolling mill complex has clearly added a milestone to Tangshan, which is considered as one of the leading steel cities in China today, where HBIS plays a major role on the market.
These projects were a clear success for all parties involved.
CGL 5 and CGL 6 – The Differences
| | | |
| --- | --- | --- |
| | CGL 5 | CGL 6 |
| Goal | Production of extremely thin carbon steel strips, galvanized or Zn-Al-Mg coated | Production of cold rolled carbon steel strips, coating galvanized or Al-Si coated |
| Strip thicknesses | between 0.18 mm and 1.5 mm | between 0.5 mm and 3.0 mm |
| Strip widths | between 850 mm and 1,300 mm | between 850 mm and 1,600 mm |
| Annual capacity |  260,000 tons |  415,000 tons |