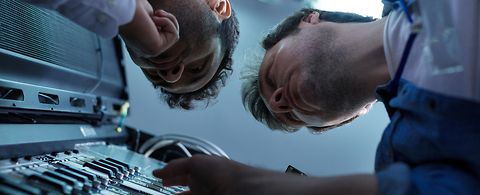 Sundwig's upgrade of the existing aluminum casting and rolling line in North Carolina
Electrical & Automation
The Customer and the Project
Rheinfelden Americas LLC is a Joint Venture of CCL Label, USA and Rheinfelden Semis GmbH & Co. KG, Germany. At the North Carolina site, it produces slugs from pure aluminum for the US market. The focus of this upgrade was placed on production increases and stabilization of the manufacturing process. The scope of supply included installation work and start-up of the machine assemblies and supply of a new control system for the respective plant section.
The Challenge
Until now, all facilities supplied and commissioned by ANDRITZ Sundwig were controlled using S7-400/300 components. This Siemens S7 system family is likely to be discontinued some time during the next five years and substituted by the successor system – the "Totally Integrated Automation", TIA, portal. As development of the control environment has reached a stage where high-performing applications such as cold-rolling mills, strip processing lines, slitting and cut-to-length lines, etc. can be operated with the TIA portal, we intend to use the latest state of the art for our equipment as well.
The Solution
TIA integrates all important automation components in the portal. As a result, everything is universally programmable, from the controllers to the peripheral equipment, the drives and the HMIs, to the safety and motion control and energy management. An overlapping database, libraries with frequently used functions, the use of high-level programming language functions, and the option to use consistent symbolic addressing have simplified and accelerated the engineering process. To ensure optimum use of the system advantages offered by the new engineering platform, a new project was launched to design and start up a complex application in the cold-rolling sector. For this purpose, ANDRITZ Sundwig (in cooperation with Rheinfelden Americas) upgraded the software of the new coiling section of the North Carolina rolling mill to an S7-1500 TIA control environment and started it up successfully. The goal of this project was to establish a first reference version that is to form the basis for future implementations, in particular for complete lines. This should enable ANDRITZ to offer its plants with the latest control technologies.
In detail, the project included implementation of the following processes:
Optimization of the program structure
Compiling joint libraries for PLCs and HMIsb
Development of new modular structures
Integration of graphic software components (CFC) and replacement of FM 458
Preparation of EPLAN macros for the hardware structure
The Result
The TIA Portal made integration of all important components of the automation project easy. With fewer multiple entries, a joint database and a uniform user interface for all tasks, engineering became faster and easier to perform, especially in the fields of visualization and application software, including the safety program.