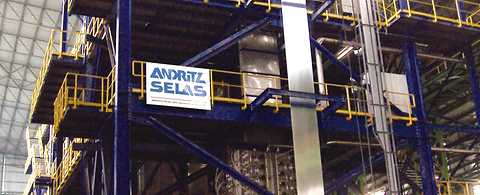 Tezcan continuous galvanizing line, Turkey
State-of-the-art furnace design for high production capacity
The hart of this line is the furnace section, which consists of a direct-fired furnace and a small radiant-tube furnace section. This allows the customer to produce a very wide range of products with thicknesses of 0.25 mm to 3 mm and widths of 800 to 1,300 mm at a maximum speed of 200 m/min.
Furnace design
The furnace is equipped with the latest Direct Fire Furnace (DFF) technology and was designed in a very compact way to minimize the construction cost for the customer. Hence, the furnace maximum height is 25 meters, while the After Pot Cooling (APC) tower height is 29 m, and a total furnace length of 47 m.
Production capacity
The processable strip thickness ranges from 0.8 mm to a maximum of 3 mm. The current maximum production capacity is 70 t/h for a strip measuring 1,300 mm in width at an operating temperature of 730° C. Future extensions to the furnace are planned, including an increase in heating capacity in the DFF section and an increase in the cooling capacity of the Slow Jet Cooling (SJC) section. The cooling capacity of the APC tower can be increased by installing one cooler on a movable platform and an additional one at the level above. In its future configuration, the furnace production capacity will reach a maximum of 83 t/h, allowing production of other steel grades as well.