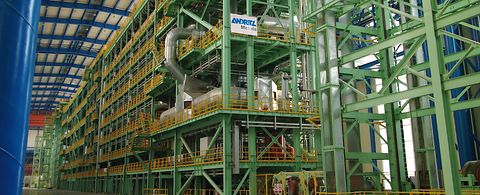 Continuous annealing line at Tianjin Ansteel Tiantie, China
Compact design to result in major savings for the customer
This continuous annealing line produces a wide range of steel sheets used for household appliances and the automotive industry. The ANDRITZ furnace control and mathematical model system optimizes operations. The line capacity is 730,000 tons per annum for a strip width of 700 to 1,600 mm and a thickness of 0.25 to 2 mm. The process speed can be up to 420 m/min. 
The DJRC has been designed to have the same height as the furnace. This very compact design provided major savings for the customer in terms of building and crane cost, at the same time ensuring the cooling requirement and strip stability for the complete production range.
The close, constructive and successful cooperation between ANSTEEL TIANTIE and the ANDRITZ METALS enabled both parties to achieve an outstanding project timeline. The line went into commercial operation only 25 months after contract signature. The guaranteed performance parameters were achieved rapidly. One of the key factors for this success was the erection start well ahead of schedule and a very smooth commissioning period.
The excellent cooperation between the companies has again been the key to this success, which was previously proven in construction of a pickling line with an acid regeneration plant and a continuous galvanizing line (CGL) furnace – all at the same site.
Technical data of the line
Continuous annealing line
Line capacity
735.000 tons per year
GJC height
29.5 m
Process speed

ingoing: 650 m/min.

process: 420 m/min.

outgoing: 650 m/min.

Strip width
700-1,600 mm
Strip thickness
0.25-2 mm
Cooling rate for 1,500 mm reference strip
108° C
Protective gas (atmosphere)
5% H2 and 95% N2
Metrerial
CQ, DQ, DDQ, BH, EDDQ, DP, and TRIP