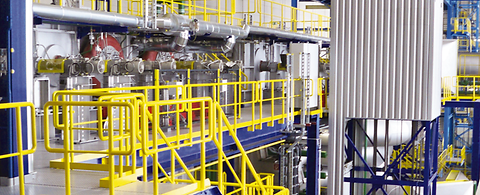 voestalpine Stahl, continuous galvanizing line no. 5, Austria
Best galvanized surface qualities for the automotive industry
Commissioned at the end of 2009, this line produces steel strip mainly for the automotive industry. The furnace is composed of highly sophisticated technological equipment, such as a direct-fired furnace and a differential rapid jet cooling system. The annual capacity is around 400,000 tons per annum, with a maximum speed of 350 m/min.
Terminal equipment
The fully automatic entry and exit sections provide the feedstock for the annealing and galvanizing process, which includes an option for additional galvannealing of a wide range of products (CQ, DQ, EDDQ, BH, AHSS, MP).
Process section
The advanced furnace technology, including a highly sophisticated DFF (Direct Fired Furnace), annealing at up to 860 °C and the innovative concept of the DRJC (Differential Rapid Jet Cooling), ensure controlled creation of strip with different metallurgical phases. By producing steel strip with GI, GA and zinc-magnesium coating, the line covers nearly all of the market's demands.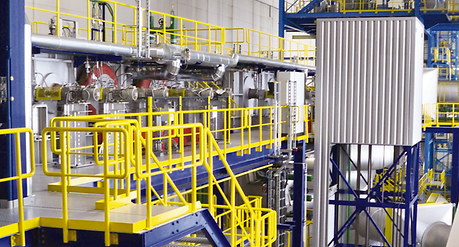 After pot treatment
Following galvanizing or galvannealing, final surface conditioning, including final influence on the material properties, takes place at the 4-Hi skin pass mill (WR 650 mm and 450 mm) by means of wet skin passing, as well as at the tension leveler with 6-Hi cartridge design. Narrow tolerances for elongation values and accurate rolling forces ensure the production of high quality products supplied to the wide range of end-users, including automotive exposed applications. The chromium-free coating and ultra-thin application of surface protective media opens up different new market segments. Exact width trimming by the turret-type side trimmer concludes the geometrical adjustments to meet customer demands (bottom left).