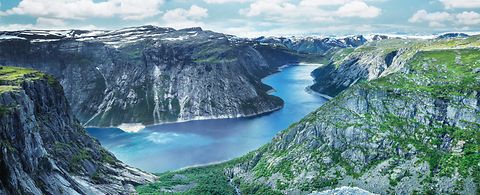 ANDRITZ to equip two hydropower stations in East Asia
2015/12/18
ANDRITZ HYDRO, part of international technology Group ANDRITZ, has received contracts from Vietnam and South Korea to supply electromechanical equipment for hydropower stations with a total value of around 65 million euros.
VNECO Hoi Xuan Investment and Electricity Construction has awarded ANDRITZ HYDRO an order for the design, delivery, installation, and commissioning of three bulb turbines and generators for the new Hoi Xuan hydropower station to be built on the Ma River in northern Vietnam. In addition, ANDRITZ will supply the mechanical and electrical equipment including automation, and the hydraulic equipment. ANDRITZ HYDRO's bulb turbine know-how for extreme heads and the short supply period were among the decisive factors for the order award. The three bulb turbines have an output of 35 megawatts each, for a maximum head of 26 meters. Commissioning of the plant is scheduled for the beginning of 2018, thus just 28 months after the order placement. It will supply more than 425 gigawatt hours of renewable energy every year for Vietnamese households and the local industry.

Korea Water Resources has awarded ANDRITZ HYDRO the refurbishment of the Andong hydropower station on the Nakdong River in the southern part of South Korea. Two diagonal turbine generator sets each with an output of 46.3 megawatts are to be modernized by the middle of 2019. Korea Water Resources supplies one quarter of South Korea's renewable energy and also operates the world's largest tidal power plant, located in Sihwa and equipped by ANDRITZ HYDRO.

– End –
The ANDRITZ GROUP
ANDRITZ is a globally leading supplier of plants, equipment, and services for hydropower stations, the pulp and paper industry, the metalworking and steel industries, and for solid/liquid separation in the municipal and industrial sectors. The publicly listed technology Group is headquartered in Graz, Austria, and has a staff of almost 25,000 employees. ANDRITZ operates over 250 sites worldwide.​​​​​​​

ANDRITZ HYDRO
ANDRITZ HYDRO supplies electromechanical equipment for hydropower stations. With over 170 years of accumulated experience and more than 30,000 turbines installed totaling approximately 420,000 megawatts of output, the business area is one of the world's leading system suppliers, offering the complete product portfolio, including turbines, generators, and additional equipment of all types and sizes: "from water to wire" for small-scale and large hydropower stations up to outputs of more than 800 megawatts per turbine unit. ANDRITZ HYDRO is also well-positioned in the growing maintenance, refurbishment, and upgrade market for existing hydropower plants. Pumps (for water transport, irrigation, and applications for various industries) and turbo-generators for thermal power stations are also part of the business area.