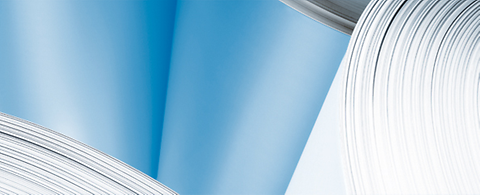 ANDRITZ launches the new tissue machine PrimeLineVRT – Vertical CrescentFormer – for dry crepe tissue
2020/02/28
International technology Group ANDRITZ has officially launched its new PrimeLineVRT – Vertical CrescentFormer – tissue machine for the production of dry crepe tissue.
The PrimeLineVRT features a vertical CrescentFormer in the forming section that enhances dewatering of the fiber web. This enables higher dryness right after the press section and an increase in paper caliper. Depending on the grade and basis weight of the paper produced, between two and four additional percentage points of dryness can be achieved after the press section compared to standard CrescentFormer configurations.
"The advantage of this new technology is that we do not need additional fabrics and fabric loops or any extra space in the basement for installation of the equipment.This results in lower building costs as well as easier operation and maintenance compared to similar technologies on the market," says Stefano Marenco, Director of PrimeLineTIAC and R&D Tissue at ANDRITZ.
The PrimeLineVRT was developed and extensively tested at the ANDRITZ Tissue Innovation and Application Center in Graz, Austria. With this new technology that is tailormade for significant improvement of dry crepe production, ANDRITZ once again confirms its strong position as one of the global market leaders for the supply of innovative key components used in conventional to ultra-premium grades within the tissue industry.
For more information about the PrimeLineVRT, contact us at tissue@andritz.com or visit us at the Tissue World Miami trade show from March 11 to 13, 2020, to discuss your next tissue project with our experts at booth no. B15.
- End -
ANDRITZ GROUP
ANDRITZ is an international technology group providing plants, systems, equipment, and services for various industries. The company is one of the technology and global market leaders in the hydropower business, the pulp and paper industry, the metal working and steel industries, and in solid/liquid separation in the municipal and industrial segments. Other important fields of business are animal feed and biomass pelleting, as well as automation, where ANDRITZ offers a wide range of innovative products and services in the IIoT (Industrial Internet of Things) sector under the brand name of Metris. In addition, the company is active in power generation (steam boiler plants, biomass power plants, recovery boilers, and gasification plants) and environmental technology (flue gas and exhaust gas cleaning plants) and offers equipment for the production of nonwovens, dissolving pulp, and panelboard, as well as recycling plants.
ANDRITZ stands for passion, partnership, perspectives and versatility – core values to which the company is committed. The listed Group is headquartered in Graz, Austria. With almost 170 years of experience, 29,700 employees, and more than 280 locations in over 40 countries worldwide, ANDRITZ is a reliable and competent partner and helps its customers to achieve their corporate and sustainability goals.
ANDRITZ PULP & PAPER
ANDRITZ Pulp & Paper is a leading global supplier of complete plants, systems, equipment, and comprehensive services for the production and processing of all types of pulp, paper, board, and tissue. The technologies cover processing of logs, annual fibers, and waste paper; production of chemical pulp, mechanical pulp, and recycled fibers; recovery and reuse of chemicals; preparation of paper machine furnish; production of paper, board, and tissue; sizing, calendering and coating of paper; as well as treatment of reject materials and sludge. The service offering includes system and machine modernization, rebuilds, spare and wear parts, on-site and workshop services, optimization of process performance, maintenance and automation solutions, as well as machine relocation and second-hand equipment. Biomass, steam and recovery boilers for power production, gasification and flue gas cleaning plants, systems and plants for the production of nonwovens and absorbent hygiene products, dissolving pulp, and panelboard (MDF), as well as recycling and shredding solutions for various waste materials also form a part of this business area.