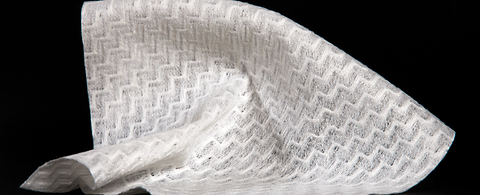 Disinfecting wipes
A simple and efficient solution to prevent germs from spreading
In the world of wipes, the disinfecting wipes category is currently of paramount importance for everyone as a result of the COVID-19 pandemic. Increasing urbanization results in a higher risk of contamination during everyday activities like using public transport, for instance, or shopping in a grocery store. High-touch surfaces in public transport, stores, hospitals, shopping malls, supermarkets or food services are potential sources of contamination with germs and viruses. Have you ever thought about the number of hands and fingers touching the keyboard of a credit card payment terminal, the horizontal bar of a supermarket trolley, the screen of the tablet at the entrance to a restaurant, or the screen at the airport check-in counter every day? Disinfecting wipes provide a convenient and efficient solution for cleaning and sanitizing high-touch surfaces and consequently reducing the risk of germs spreading.

The technology behind wipes production

Various nonwovens are used in this wipes category. However, viscose-polyester blend carded spunlace and composites are the preferred materials for disinfecting wipes. Composites combine one or two layers of carded fibers or spunbond web with one layer of wood pulp fibers. The resulting two or three layers are bonded together via hydroentanglement without binders or thermal bonding, and the substrate produced is very strong and highly absorbent thanks to the layer of wood pulp fibers.

The nonwoven material holds the sanitizing lotions well and wipes surfaces efficiently thanks to the 3D surface designs created on special hydroentanglement sleeves.

ANDRITZ Nonwoven provides high-performance lines producing innovative spunlace and WetlaceTM nonwoven roll goods for environmentally compatible and biodegradable products made entirely from natural and/or renewable raw materials.