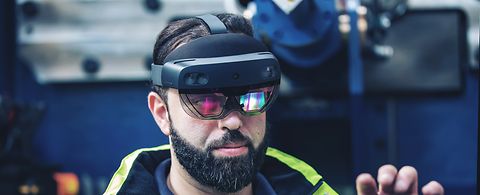 Metris RAS – state-of-the-art solution for online support
Metris Remote Assistance (Metris RAS) is a complete solution for smooth and solution-oriented online support from ANDRITZ service experts.
In addition to voice, text, image, and video exchange, Metris RAS also includes augmented reality (AR) support, where the technician is guided through the service work step by step on site and in real time using an ANDRITZ HoloLens and via remote connection to the Metris Performance Center. Of course, chat messages can be exchanged at the same time or additional participants may join the conversation.
In particular, the option of AR support can shorten service cases significantly, eliminating the need for a lengthy exchange on the factual situation. The augmented reality functionality can also be used during a regular video call, where AR annotations can be drawn into the video stream, for example to mark a certain position on a machine.
Metris RAS is a 24/7 solution, with an expert available for each technology. ANDRITZ recommends the use of ANDRITZ HoloLenses for the AR interaction.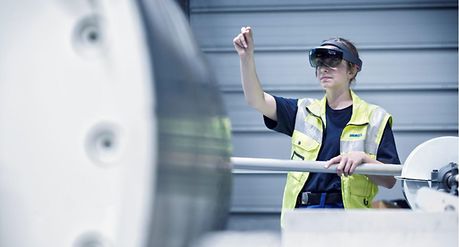 Fast reaction – no time to lose
As mentioned above, Metris RAS helps to significantly shorten support operations and reduce potentially unnecessary prolongation of downtimes. The ANDRITZ experts see what the technician sees on site, and by means of the HoloLens, the technician at the machine receives direct overlays describing the individual steps required, such as the replacement of a specific machine part. In addition, dialog is possible in parallel via voice chat and questions can be asked.
In addition to the time-saving aspect, there may not be any need for an ANDRITZ service engineer to travel to the site at all in some service cases as Metris RAS can be used instead. This reduces costs and also helps to avoid unnecessary travel. You can read more about Metris RAS in our latest flyer.