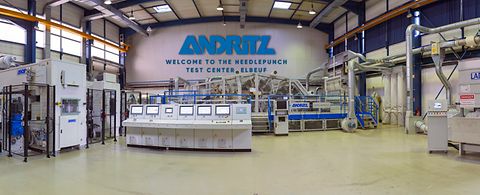 New needlepunch technical center
New machinery and equipment open up new possibilities for various end applications
The ANDRITZ Technical Center for needlepunch technology at the Elbeuf site in France, used for numerous applications in a wide range of industries, was refurbished in recent months and equipped with new and innovative technologies.
The upgrade of the test facilities was completed at the beginning of this year. A lot has happened in the market since the last major upgrade of the test facilities for needlepunch technology in 2013, and the demands of customers and markets have by no means diminished. In order to take these developments into account, it was essential to upgrade and relaunch the test center.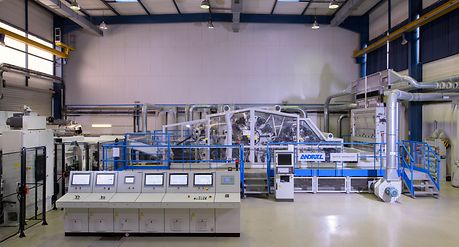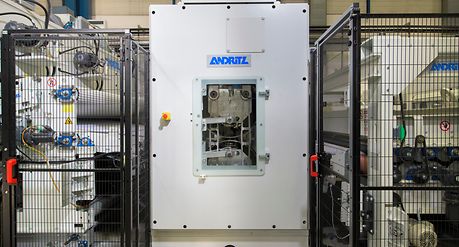 Among other new features, the new SDV-2+2 double-velour needleloom is now available (see the detailed report in "Top developments in needlepunch") – a system that can make a crucial difference in the production of velour materials for the automotive industry. The SDV-2+2 needleloom makes a decisive contribution towards improving surface quality, from both a visual and a haptic point of view.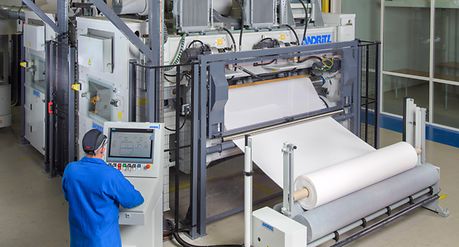 For tests with lightweight products, there is also the new pre-needling innovation PA.3000. Pre-needling solutions are a very popular option in the needlepunch market and the new PA.3000 is truly an evolutionary step forward, especially as it is faster at large width (very interesting for low weights). It is one of the cornerstones of the upgrade to the needlepunch technical center.
In addition to these two technological highlights, there are also many other smaller and larger enhancements. All in all, the changes are so extensive that a special inauguration of the Needlepunch Technical Center was planned for 2021. Unfortunately, Covid-19 has put paid to our plan, but we promise to catch up on this at the earliest opportunity because there are simply so many innovations to present that will significantly expand the test potential for our customers from all branches of industry.
In the meantime, if you have any questions about the 2021 needlepunch test center, please do not hesitate to contact us: aat.service@andritz.com. We look forward to hearing from you!