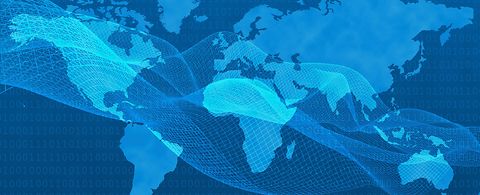 ANDRITZ Wetlaid – The gentle way to handle glass
Glass is associated above all with fragility. And the processing of glass fibers also requires a particularly gentle technique.
Wetlaid technology is becoming increasingly important in ANDRITZ Nonwoven's machinery portfolio. The growing market acceptance of the wetlaid process, which has its origins in the paper industry, is also due – among other things – to the unique possibilities the method offers, which initially mixes fibers with water. With the WetlaceTM solution for wipes, for example, ANDRITZ offers a process that makes the materials produced on it 100% biodegradable and no longer pollutes the sewage systems.

ANDRITZ as a leading supplier in wetlaid nonwovens solutions now also offers the wetlaid method for the production of goods whose main component is glass fibers.

Nonwovens based on glass fibers are a huge market and can be found almost everywhere – in ceiling tiles, filtration, cushion vinyl flooring, insulation, wallpapers and geotextiles, batteries, and of course roofing materials, as well as many other applications.

Glass fiber as a basic component is an excellent composite material and offers numerous advantages that give the resulting products unique properties. These nonwovens are known for excellent thermal insulation, high tensile strength, and extreme moisture repellency, for example.

The manufacture of products based on glass fibers requires particularly gentle treatment in stock preparation and the laying process.
Together with other important aspects, they are key to producing glass fiber material of excellent quality.

The key to the successful ANDRITZ wetlaid process for glass fibers lies on the one hand in the manifold, which ensures that the diluted fiber is fed absolutely uniformly to the diffuser. The high degree of uniform distribution is a definite quality factor for the materials to be produced.

And on the other hand, in the next process step, the ANDRITZ neXformer is used as an extremely well-proven forming concept for the production of wetlaid nonwovens. It enables uniform sheet formation with short and longer fibers at all times and offers high flexibility, especially in the production of multilayer end products.

One of many other features that are important for the customer: ANDRITZ provides you with concept and engineering know-how for a complete glass fiber line as a solution out of a single source. The entire technology and project management is handled by ANDRITZ – from stock preparation to drying technology.

Discover more about wetlaid for glass fibers and how we can assist you with more information at Techtextil 2019 and ITMA 2019.
Register here for a visit at ANDRITZ, at ITMA 2019 and Techtextil 2019