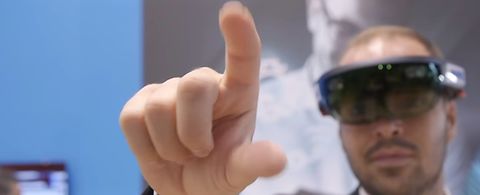 Making service more comfortable and accessible
Metris Remote Access is a highly efficient and cost-saving service offer
ANDRITZ service via remote access is a far-reaching opportunity to take advantage of service activities without any personal contact and with all the benefits of cost and time savings.
During the Covid-19 pandemic in particular, the need for remote access to conduct maintenance and service work has increased significantly.
Remote assistance is also part of ANDRITZ's own IIoT solution Metris and is the communication solution offered by the ANDRITZ Service Center by means of technical visual and audio support for the customer's technician on site.
And the technical opportunities offered by Metris Remote Assistance go beyond the actual service process. The system can also be used for sales, purchasing and ordering processes.
What does Metris Remote Assistance Service comprise?
Metris Remote Assistance (RAS) provides a set of audio, video and, as an option, AR-supported communication tools for use by an engineer in the field and experts in back-offices to identify and resolve any issues faster and more smoothly, with fewer misunderstandings and no unnecessary, additional calls.
Metris RAS includes all functionalities necessary for smooth, virtual communication. The ANDRITZ expert can be contacted via the mobile app. Both the customer and the ANDRITZ engineer are able to switch from audio-only mode to video mode. This may be necessary, for example, if you want to share images, documents, manuals or other content or just to continue the call face-to-face.
Of course, chat messages can be exchanged at the same time or additional participants can be added to the conversation. Both can draw augmented-reality annotations into the video call to provide and receive additional, visual support.
Metris RAS can be used regardless of time and place. If an ANDRITZ expert is not immediately available, the customer will, of course, receive a return call without having to make a further request.
On the customer side, all that is needed is the appropriate hardware (e.g. laptop, smartphone), the Metris RAS App and a stable internet connection.
Augmented reality as real-time, on-site support
A real extra is the use of augmented reality content for on-site repair (the tool needed for this is a pair of Holo Lens AR glasses). An ANDRITZ engineer or a trained customer technician can see and carry out instructions for operation and repair by means of the holographic contents appearing in the window of the glasses.
The augmented reality functionality can also be used during a regular video call, where AR-annotations can be drawn into the video stream, e.g. to mark a certain position on a machine.
To learn more about ANDRITZ Metris RAS, please click here, mail to service.perfojet@andritz.com or call our global service number+33 (4) 26 700 500. Or simply use our contact form below.
We will be happy to advise you on all questions and let you know how you too can benefit from Metris RAS as soon as possible.