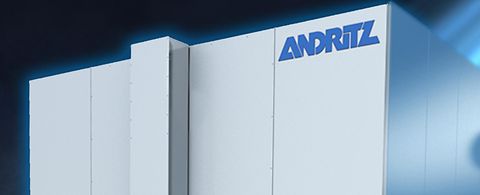 Maximize your drying capacity – neXdry 4000
ANDRITZ introduces its next generation in high-performance drying technology
ANDRITZ has excellent expertise and more than 30 years of experience in designing and building industrial dryers. As early as 1990, ANDRITZ introduced the first version of the Perfojet 3000, which expanded the product range to include dryers, but also added an important component to its own spunlace lines and helped to establish ANDRITZ's ambition to become a supplier of complete nonwovens processing lines.

The evolution goes on
For water-intensive production processes such as wetlaid and spunlace, a high drying capacity is an advantage. The new ANDRITZ neXdry 4000 through-air dryer has this capacity, with up to 4 tons of water evaporation per hour. The neXdry 4000 thus meets the increasing market demands for higher production capacities.
With the maximum speed of 1000 m/min for Spunjet production lines, this means that the drying process is certainly not a bottleneck in the production line. Like all TAD systems, the neXdry 4000 has a compact design with a total working width of up to 5.1 meters and a drum diameter of 3.1 meters. (More technical details are available on the product page of the neXdry 4000.)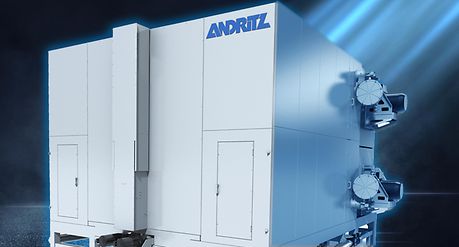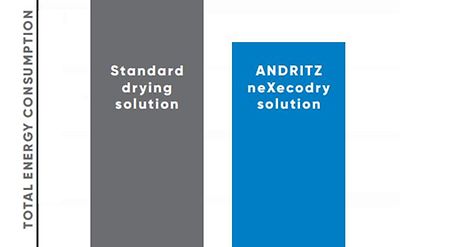 Energy-saving aspects are a must for modern dryer technology
But an innovative industrial dryer for nonwovens not only has to provide superior performance, it should also score points in terms of energy efficiency.
The neXdry 4000 impresses with neXdry air flow management by the patented, innovative U-drum and improved insulation of the housing with a layer of 100 mm high-density rock wool (100 kg/cubic meter). In addition, possible thermal bridges have been reduced in order to minimize further heat emissions to the outside.
neXecodry is the icing on the cake
The neXdry 4000 – like other ANDRITZ dryers in the neXdry series – harmonizes perfectly with the optional ANDRITZ neXecodry solution.
The neXecodry drying technology is a combination of dewatering and drying technology. It was designed by ANDRITZ to make significant reductions in the energy consumption of existing spunlace, wetlace (= wetlaid plus hydroentanglement), and airlace production lines. Nonwovens producers thus obtain better-quality fabrics with greater bulk and no pattern degradation.
Easy maintenance
In addition, the neXdry 4000 is easy to operate during maintenance and cleaning. The important components of the dryer are easily accessible from the outside and the inside, and expendable parts can be replaced with minimum effort. In detail, this means
Platforms for accessing filters and burners
Central lubrication for drum bearings
Belt drive for drum so that there are no chains to be greased
Front doors for accessing each hood half
Rear door for accessing mixing chamber and fans
Full access to outside and inside of drum
Exhaust and fresh air dampers on side walls
More information about ANDRITz competence in ninwovens drying you can find here.
Our experts are looking forward to arranging an appointment with you to present the neXdry 4000 in all details: perfojet@andritz.com