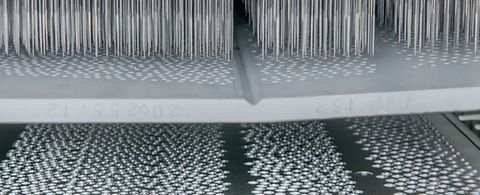 Save time and save money
Pneumatic gives you the option for a manual-free adjustment of the needleboards
The ANDRITZ Pneumatic Centering system is an optional device to ensure a smoother production process in a needlepunch line.

Thanks to Pneumatic Centering, needleboard sections do not need to be adjusted and set manually anymore. Without this option, the stop end of every needleboard section is controlled regularly and readjusted manually, entailing a risk of contact between needles, bed plates and stripper plates if settings are wrong.
The Pneumatic Centering system not only helps to reduce wear and tear and prevent premature damage, it eliminates the need for any further manual intervention and generates greater time savings when changing needleboards, in particular on wide machines.
The ANDRITZ Pneumatic Centering system is mainly suitable for use in or retrofitting to all ANDRITZ A50 needleloom types, namely A50R, A50RS, A50S, and A50XS, requiring only a simple modification to existing needleboards.
Our service team at ANDRITZ Asselin-Thibeau is at your disposal for further detailed information to optimize your needlepunch configuration: service.aat@andritz.com
Please also see our flyer for more information.