A head start in quality: ANDRITZ ProWin®
ANDRITZ presents the latest revolution in weight profiling technology
It's already part of the name: ANDRITZ ProWin® is the web control system that makes you a real winner in terms of web distribution, uniformity, profile, and structure of your needlepunch materials – and production speed.
The ProWin® system is a smart combination of the ANDRITZ weight profiling control technologies ProDyn® & ProWid® used to gain the most advantages from both technologies in terms of fiber weight profiling on delivery to the crosslapper.
ProWin® provides production boost
ProWin, ProDyn and ProWid all provide an automated process to successfully improve the fabric profile and distribute the fibers more evenly, while also saving material.
The big advantage of the enhanced ProWin® is: A boost in production speed and weight-profiling capabilities. The crosslapper runs even more smoothly at high speed and can also generate energy savings. Depending on the customer's wishes regarding capacity load, this increase in the possible production speed can be a real bonus.
You can see how ProWin® works in the graphic (picture with NP line and arrows indicating the mode of operation). The resulting coordination of speed and intensity during correction achieves the above-mentioned improvements, such as better weight profile (CV%), and thus significant quality improvements across the entire final fabric material. This innovation also plays an important role in making consistent fiber savings, hence generating substantial gains for the customer by eliminating superfluous fibers.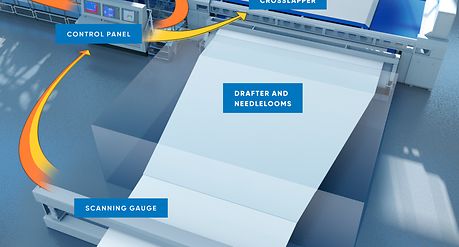 Smooth processing in perfect harmony

When the weight profile distribution is displayed on the ANDRITZ scanning gauge, the ProWin® technology self-adjusts to anticipate fiber mat formation during the downstream bonding process.
In other words: If your needlepunch line were an orchestra, ProWin® is the conductor, a so called maestro, who makes sure that all instruments play together in perfect harmony.
At the control panel, the operator always has an overview of the processes and can re-adjust if necessary. Once set, however, re-adjustments are unnecessary.
A side effect that should not be neglected is the fact that thickening of the web towards the edges is minimized, which, in addition to the quality aspects, also means a reduction in material input. And less material means a direct cost-saving effect.
One for all – ProWin® fits for every fabrication

Measurement of quality improvement and material savings definitely depends on the drafting and stretching applied during the bonding process and the physical properties of the final fabric to be produced. In principle, ProWin® can be used on all ANDRITZ needlepunch lines (and spunlace if a crosslapper is used), regardless of whether you are a manufacturer of automotive, filtration, geotextile, synthetic leather, composite, roofing or other products.

ANDRITZ ProWin® is a must for every manufacturer of durable and needlepunched nonwovens who wants to meet the quality requirements of the most demanding markets – now and in the future.
ProWin® is a patented solution and available exclusively from ANDRITZ.
The ANDRITZ needlepunch team will introduce ProWin® in a webinar in January 2021.