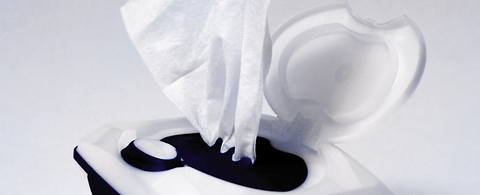 Follow the BioFlush® pioneers
A company which started in the shoe industry over 200 years ago is now one of Turkey's largest manufacturers of nonwovens.  AKINAL recently introduced its own brand of 100% biodegradable and certified flushable wipes – BioFlush® – using state-of-the-art Wetlace™ technology from ANDRITZ Nonwoven.
At the end of 2016, AKINAL Sentetik Tekstil of Turkey completed the start-up of a 15,000 t/a neXline wetlace production line from ANDRITZ Nonwoven and has since launched its brand of next-generation flushable and biodegradable wipes in response to growing market demands.

There are several elements that are unique about this start-up: AKINAL's pioneering project, the product itself, and the integrated technologies developed by ANDRITZ as the technical solutions partner to AKINAL.

AKINAL as nonwovens pioneer

The AKINAL family has been manufacturing products for the last couple of centuries – starting first in the shoe industry, and evolving nonwoven roll goods manufacturing.  AKINAL was the first producer of technical textiles in Turkey, with its first spunlace line installed in 2002, according to Önder Karadağ, Foreign Trade Manager for AKINAL Sentetik Tekstil.  Since then, several lines have been added, bringing total production at our facility in Gaziantep to 160,000 t/a. "Our production is split about 50-50 between domestic and export, with export of our nonwoven products to about 50 countries in 5 different continents," Karadağ says. 

The desire to produce a flushable product – BioFlush® – came about due to strong demand from AKINAL's customers for an alternative to the products coming from the world's most dominant market players.  "We are always trying to be a pioneer in our markets," Karadağ admits.  "So, we were intrigued by producing a nonwoven that would use sustainable natural fibers and no chemicals or plastics so that it would be biodegradable as well."

It started at INDEX

Management from AKINAL came to INDEX 14 in Geneva with a singular thought on their minds – to select a technology partner who would help them be successful in the flushable wipes market.  Around that time, ANDRITZ Nonwoven received its first order (from Dalian Ruiguang Nonwoven Group in China) to supply a complete neXline wetlace for the production of biodegradable nonwoven wipes without chemical binders. Start-up of the line was scheduled for 2015.

AKINAL was very familiar with ANDRITZ people and technologies, having purchased ANDRITZ equipment (Asselin-Thibeau and Perfojet at the time) for their very first spunlace line in 2002.  Since that time, additional ANDRITZ equipment was purchased for spunlacing, calendering, needlepunching, and drying. 
Discussions with ANDRITZ Nonwoven moved quickly from concept to design to technical refinement to purchase order. The contract for the neXline wetlace production line was signed in October 2014, according to Wolfgang Schumacher, ANDRITZ Nonwovens Sales Manager.

Next-generation flushables
Flushable wipes range from adult moist toilet tissue and toddler toilet care to feminine hygiene wipes, and the sector is growing rapidly. These sales are mainly driven by convenience, hygiene, performance, cost, and customer eco-perception.

"The choice and selection of nonwoven substrates for flushable wipes is changing," says Önder Doğan, Production & Project Manager for AKINAL Sentetik Tekstil.  "The move is away from petroleum-based non-biodegradable fibers toward the increased use of wood pulp which is sustainable.  Wetlaid web forming technology has been able to incorporate very high levels of wood pulp, while carded web forming has been limited.  Only a few products manufactured with conventional spunlace technology (carding and hydroentanglement) can meet the dispersion requirements, so a different technical solution was called for. 

That is what led AKINAL to discuss with ANDRITZ at INDEX 14: ANDRITZ's expertise in fiber preparation from the pulp & paper industry combined with their experience in nonwovens.

"ANDRITZ has been, and continues to be, one of our first choices as a technical partner," Karadağ confirms.  "We have experience with them and we trust them."

Combining technologies from the paper industry and nonwovens

"It seems like a contradiction that is difficult to solve," says Stéphane Robin, ANDRITZ Application Engineer for Nonwovens.  "The strength of the wipe has to be sufficient during its production and use so that it stays intact. However, after the wipe is used, it needs to disintegrate quickly and completely."

Conventional spunlacing — carding and hydroentanglement — can provide wipes with high tensile strength and softness. However, the spunlace fiber lengths create entanglements that are difficult to open up again when flushed. "It became clear that a fiber length considerably less than 20 mm is necessary to produce flushable wipes," Robin says. 

From this, the Wetlace™ technology was developed.  "Our fiber processing during stock preparation, fiber lay-down during wet forming, and mechanical bonding with hydroentanglement have all been designed to optimize the strength of wipes for use and fast release when flushed.  In addition, we have the added benefit of using a blend of fibers (wood pulp and short-cut staple fibers) without chemical additives or binders so that they are completely biodegradable."

ANDRITZ neXline wetlace lines are designed for high production capacities of up to 15,000 t/a and integrate stock preparation, wet forming, hydroentanglement, and drying.  ANDRITZ Nonwoven is the only company providing complete Wetlace™ technology from stock preparation to drying and winding from a single source. 
The main stages in the neXline wetlace production line at AKINAL are:

Stock preparation.  The stock preparation system processes, cleans, and precisely blends cellulosic, synthetic, and broke fibers depending upon the application.  The system consists of conveyors, pulper, storage chests, pressure screens, and dosing equipment.  There is also a system for recovering and reusing edge trims and the web during the tail threading process (broke). 

Wet forming.  Following stock preparation is the neXformer for wet forming, with its headbox, inclined wire system, and dewatering box.  The fiber/water suspension is distributed homogeneously over the full forming width of the web.

Hydroentanglement.  Next in the line is the hydroentanglement system, Jetlace™, which bonds the web with high-pressure water jets.  This process saves energy since, unlike spunlacing applications, the web of fibers is wet already.  Hydroentanglement of wetlaid sheets allows the production of binder-free wetlaid nonwovens. The result is a strong, but dispersible product. 

Dewatering and Drying.  A vacuum dewatering conveyor transfers the web from hydroentanglement to the Through-Air Dryer(TAD) unit. 

The AKINAL line also employs ANDRITZ's ropeless tail threading technology which feeds a 200 mm "tail" of the web at production speed through the hydroentanglement and dewatering sections and between the dewatering conveyors and the TAD drum. This reduces start-up waste.

High quality and performance​​​​​​​

"For this particular project, there was not an operating reference line that we could visit," Doğan confirms.  "But we knew ANDRITZ well and we were able to do extensive pilot work with them at their plant in Germany."

Plus, AKINAL had the benefit of learning first-hand from ANDRITZ's experience with the first neXline wetlace installation in China.  "That system started up in August 2015," says Doğan.  "We were able to benefit from the knowledge that ANDRITZ gained in China when we started our own line. I am confident that we have a state-of-the-art Wetlace™ technology."

Design production speed for the AKINAL neXline wetlace is 110-225 m/min, depending upon the fiber mix and the nonwovens product being produced (fabric weights from 40-80 gsm).  Design capacity is from 1800-2250 t/h and at a production width of 3.4 m. 

ANDRITZ supervised the mechanical erection and commissioning of the line, trained AKINAL's operators on the new technology, and oversaw the start-up itself.  "ANDRITZ is also providing on-going support for tuning and optimization of the line," Doğan says.

"We are getting good response from our worldwide customers about the new BioFlush® product," says Karadağ.  "The specific requirements differ slightly from country to country, and we have the flexibility with this technology to adjust our fiber blend in order to basically produce a tailor-made product for customers.  We can produce according to the latest EDANA/INDA guidelines for flushable wipes."

"The increasing attention around wipes in general, and calls from certain parties to ban flushable wipes, will have an impact on the industry," Schumacher says.  "It creates a situation where flushability claims will be scrutinized closely.  Fabrics produced using the ANDRITZ Wetlace™ nonwoven process were able to comply with the EDANA/INDA flushability standards in 2011 and again in 2013, passing all seven tests according to the new guidelines," Schumacher says.  "We are certain that we will be in compliance with the latest guidelines when they are published."