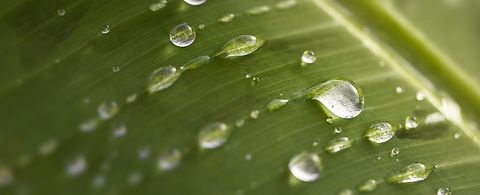 100% flushable, dispersible and biodegradable wet wipes
It's an almost perfect contradiction, like 'squaring the circle'. The material as such needs an excellent tensile strength, because in production it's pulled by the winder through the different stages of the process line to start with. Then during the converting of the product it's wetted and packed and the end-user expects a wipe that doesn't disintegrate before and during use. Once flushed this stability has to completely disappear so that the product will virtually dissolve in the sewage water system. In effect, has to become invisible. Or it certainly shouldn't be recognizable as a wipe, at least. Finally, the fibers are biodegradable, means they do not harm the environment.
Conventional spunlacing — carding and hydroentanglement — can provide wipes with high tensile strength and softness. However, the spunlace fiber lengths create entanglements that are difficult to open up again when flushed. Wipes produced with the spunlace process are only flushable by size and neither dispersible nor biodegradable. This means, these wipes can block the sewage system easily. As result, it is clear that a fiber length considerably less than 20 mm is necessary to produce flushable/dispersible wipes. 

The ANDRITZ Wetlace™ technology is an ideal process for the production of flushable/dispersible wipes from 100% natural and/or renewable raw materials without chemical binders. In addition, fabrics produced using this innovative process comply with the latest EDANA/INDA flushability standards, passing all seven tests according to the new guidelines.

The ANDRITZ Wetlace™ technology combines wetlaid inclined wire forming and hydroentanglement. The fiber processing during stock preparation, fiber lay-down during wet forming, and mechanical bonding with hydroentanglement have been perfectly designed to optimize the wet strength of wipes for use and fast disintegration when flushed. Moreover, the ANDRITZ Wetlace™ technology has the added benefit of using a blend of fibers (wood pulp and short-cut cellulosic staple fibers) without chemical additives or binders so that they are completely biodegradable.

Moreover, ANDRITZ has developed an innovative process for patterning flushable wipes.  Individual artwork for signature Wetlace™ fabrics, such as flush-friendly symbols, sustainable logos or earth-friendly markings, can respond to disposal correctness. In addition, this process can steer future regulations towards labelling as unmistakable product identification.

ANDRITZ can draw on a lot of in-house process know-how in the development of the Wetlace™ technology since 2004. The ANDRITZ AG in Austria, is a specialist in fibre and stock preparation as well as support engineering, while ANDRITZ has a long history in wet forming for the paper and tissue industry – having been involved in some of the biggest turnkey project for paper production worldwide – in addition to process engineering. And ANDRITZ Perfojet in France has led the field in hydroentanglement and drying technologies for nonwovens for many years.