Let's talk about today & tomorrow
Our two managers Andreas Lukas (Senior Vice President and Division Manager) and Tobias Schäfer (Vice President Sales) were in attendance at ITMA 2019. About the opportunities and risks of our industry and where the potentials of the future lie. Here you can read the complete interview that the organizer of the ITMA conducted with the two ANDRITZ managers three weeks before the start of the show.
What are you most looking forward to at this year's ITMA event?
Andreas Lukas: ITMA is the ideal presentation platform for many of our technologies. For ANDRITZ as a technology leader in these areas, this is an indispensable event at which we would like to set special emphases and present some interesting highlights. We look forward to numerous valuable discussions and the successful presentation of our latest developments across all technology areas. ITMA is also such an important event for ANDRITZ because the nonwoven growth market is becoming more and more interesting for traditional textile producers. ANDRITZ is at home in both worlds and can offer a comprehensive technology partnership that reveals and also opens up opportunities for textile manufacturers in the nonwovens sector.

What developments will you be discussing during the exhibition?
Tobias Schäfer: We have a lot of new developments in store, such as our new textile calender teXcal Raconip TT. This new development is aimed at customers who demand not only consistently high production quality but also versatility and very user-friendly handling as well as excellent process stability.
Another central highlight is the ANDRITZ velour needleloom designed for automotive applications and exhibited at our booth in Hall 3. The machine will be enhanced by an Augmented Reality system available at the booth. With the help of our renowned needlepunch technology, we would like to support our customers in profitably realising the increasing potentials on the market. And we will demonstrate some very interesting further developments for visitors. For example, ProWin, our new cross-laying technology, which provides uniform material profiling within the needlepunch manufacturing process and thus significantly improves the manufacturing quality by increasing the actual production capacity.
ANDRITZ wetlaid technology for glass fibers is another focus of our presentation at this year's ITMA. Our wetlaid production application for glass-fiber composites includes a completely new development in distributor, diffuser, and former machinery. The high uniformity of fiber distribution with optimum structures during the laying process are basic requirements for high-quality end materials.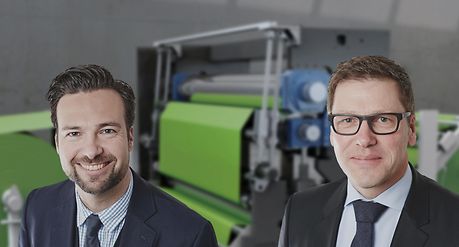 Can you tell us about the new Metris brand you recently launched for digitalisation and automation?
Andreas Lukas: Metris is the ANDRITZ technology brand that encompasses a whole range of digital products and IIoT technologies under one roof. All of them essentially serve the purpose of smarter production and service by networking machine technology, process steps, manufacturers and customers in a meaningful way. The heart of the Metris technology is Optimization of Process Performance (OPP). Metris OPP improves production systems by analyzing a huge amount of data collected throughout the systems. The result is minimized production losses, and customers can save a lot of money in their daily operations. The Metris product portfolio is extensive and offers unique opportunities to prepare and accelerate optimization and maintenance activities, for example with remote diagnostics via Internet access. This reduces cost-intensive, on-site service and also speeds up access to spare parts via the upcoming, comprehensive Metris sparepart catalog. Machine operation via Augmented Reality solutions is another Metris element. ITMA visitors will learn more about the ANDRITZ Metris solution during the ANDRITZ presentation at the Nonwovens Forum organized by EDANA on June 21. 
What were your company's biggest achievements over the past 12 months?
Tobias Schäfer: In the past year, we were able to successfully establish new developments on the market and improve our market position in numerous technology areas. And in order to strengthen this market position, one of the most important achievements in recent months has been the successive renewal of our production and assembly equipment. This investment supports our high quality standards as well as our technical capabilities, such as shortening of delivery times.
Regarding exciting new products, we must mention our new Raconip TT textile calender. This calender sets new standards in terms of versatility and user-friendliness. Or our developments in needlepunch with special needlelooms, such as the SDV needleloom for the production of velour products that are widely used in the automotive sector. 
In particular, more efficient production design and sustainability are two essential, general characteristics of our developments across all areas. Our activities focus on the success of our customers in the marketplace.
We have also further refined our air-through bonding technology, which is particularly suitable for the production of hygiene products such as baby diapers. In the air-through bonding sector, ANDRITZ runs a pilot plant together with CETI (European Center for Innovative Textiles) that is available to all customers as a test facility. Another achievement is our dedication to the production of geotextiles based on our needlepunch technology. Not only does the customer receive a solution that is specially tailored to his markets, but everything also comes from a single source. From opening and blending to carding, crosslapper, drafter, needleloom and winder, including stenter, ANDRITZ delivers each element to the customer – fully compatible and precisely matched. This is where enormous savings potentials lie, even in the planning stage.
And finally, one more achievement: In the spunlace process, ANDRITZ has strengthened its leading position thanks to the new important contracts relating to ultra-light products used in hygiene applications. Furthermore, the innovative Spunjet process makes a real difference compared to standard spunbond fabrics, providing more softness and bulk.
Where are your main customers located?
Andreas Lukas: Thinking globally and acting locally is one of the ANDRITZ GROUP's basic principles. The ANDRITZ Nonwoven and Textile Division is completely global. Thanks to a worldwide sales and service network of experienced employees, we are in the fortunate position of being able to offer and service our systems all over the world. Europe and North America form a stable customer base with a lot of lines in operation. The major growth markets are in Asia, and certainly in China. Of course, we also benefit from the prosperity development of many of these countries, for example in the production of hygiene articles in the nonwovens sector. Our branch in Wuxi, China, has been recording continuous growth in demand for years, and it is essential for our service philosophy to be able to react quickly and effectively to customer needs locally. In the long term, however, we also see many opportunities in markets whose development is foreseeable. This applies to many end-use areas whose materials are produced on ANDRITZ machines.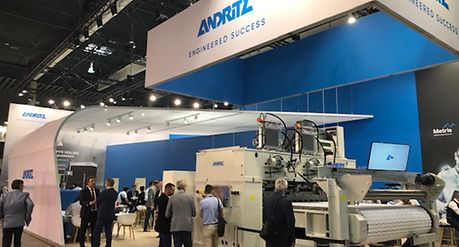 What trends are you currently witnessing in the nonwovens industry?
Tobias Schäfer: Every day we read and hear about such metatopics as sustainability and environmental protection, but also about greater efficiency in the processing of nonwovens and higher plant performance. At ANDRITZ, we not only want to accompany these trends, but also take a forward-looking position there. As mentioned above concerning Metris, well-founded IT solutions and the migration of our mechanical engineering technology via the Internet offer excellent prerequisites, the cost effects of which are directly visible to the customer and also help to meet environmental requirements. In addition, when processing the fibers, we also use technologies that have a lasting positive impact on the environment. With our Wetlace™ technology for the production of biodegradable wipes at competitive production costs, for example, ANDRITZ is on the way to playing a significant role in this field.
This principle of resource conservation and cost reduction is also reflected in our latest achievement in the spunlace market. The trim from spunlace systems accounts for a seven-digit sum per year. We have developed a system to recycle this trim and return it to production. The product qualities achieved with recycled fiber content are indistinguishable from those containing virgin fibre. The first "blind testing" of samples by our customers have proven this.
How does Andritz work towards achieving sustainability in its business operations?
Andreas Lukas: We will continue to position ourselves broadly in research, development and the resulting product range. Acquisitions such as Diatec in the summer of 2018 – a specialist in the converting sector – fit perfectly into our portfolio and market strategy. Our goal is to offer our customers everything from a single source. This saves valuable time in planning, consulting, construction and support. We will also continue to strengthen our service activities in order to serve our customers even more quickly and effectively. For example, we will communicate our 24/7 hotline service, which is widely accepted by customers, even more intensively. On-time support helps to keep downtime as short as possible and is a cornerstone of customer profitability. For this reason, we are further expanding our worldwide sales and service network – just recently also in Turkey and South America. Proximity to the customer is of great importance in a sustainable partnership. And finally, as already mentioned, we are focusing on the implementation of innovative IT solutions through Metris in order to make use of data that help customers constantly optimize operating performance.
Is there anything you'd like to add?
Andreas Lukas: The entire ANDRITZ Nonwoven & Textile team is looking forward to a successful exhibition and to the discussions mentioned above. We hope that we will be able not only to inform visitors, but also to inspire them. Our innovations certainly have the potential to do so.