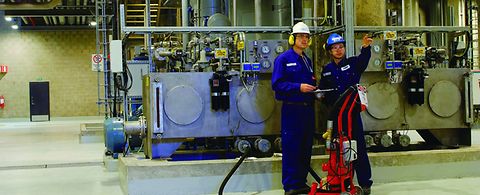 Advanced condition diagnostics

---
Solutions for detecting and avoiding equipment failures
ANDRITZ Advanced Condition Diagnostic (ACD) systems are effective tools for monitoring machines that are otherwise difficult or impossible to observe or analyze.

ACD improves the overall availability of process time for pulp mill areas and equipment. These online diagnostics allow mills to plan maintenance and upgrades, and improve overall plant safety. The system is particularly valuable in detecting incipient failures.

The ACD system monitors friction levels and detects changes on bearing running conditions and lubrication before critical failures occur. In many cases, the source of the friction (for example, lubricant breakdown, metal in lubricant, lubricant cooling system failure, improper loading) can be corrected, helping the mill to avoid equipment failure—and downtime. On pressure vessels, ACD detects active crack propagation and leaks online.

All ACD tools use ACU sensors developed and manufactured by ANDRITZ. They are completely remote-controlled and provide a complete diagnostic solution. We offer the tools for the following standard applications:

Kiln ACD
Digester ACD
Recovery boiler ACD
DD washer ACD
Wash press ACD
Pulp dryer ACD
We can also custom design a solution for any rotating equipment you wish to monitor.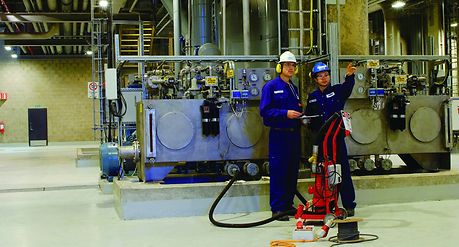 Our technology 
ACD tools use acoustic emission (AE) technology. Rapid changes in micro-structures of material generate elastic waves (acoustic emission). Ultra-sensitive piezo sensors then detect and continuously record the amount of energy generated. Acoustic emission technology is very adept at detecting overload, lubrication problems, crack propagation and incipient machine faults. Low-frequency background noise and audible noise have no effect on measurement.

ACU sensors are typically located at bearing housings, on gearboxes and pressure vessels. Data produced by ACU sensors is sent to our ACD-server, which offers a web-based human-machine interface (HMI). Sensor indicators on the HMI are marked with colors corresponding to the level of acoustic emission. For example, green indicates normal running conditions, yellow indicates an alert that requires attention and correction, and red indicates an alarm with critical running conditions.

Browser-based HMI data is available for all users in the plant's network. ANDRITZ experts can help you interpret the data to identify the problem being detected. Remote user and diagnostics support is also available.