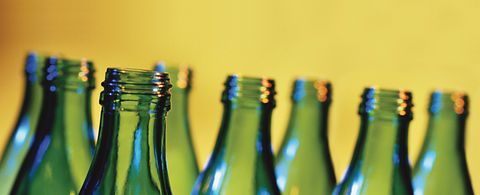 BrainWave container glass
The solution for stabilizing forehearth temperatures
Control stabilization with BrainWave 
ANDRITZ BrainWave is a patented advanced controller that outperforms traditional Proportional-Integral-Derivative (PID) control because of its two main components: an adaptive model and a predictive controller. BrainWave builds its own live models during normal plant operations, a powerful feature not offered by traditional Model Predictive Control (MPC) systems.

BrainWave's predictive controller accurately forecasts process responses and accounts for multiple objectives. It adapts to process conditions, such as changes in production rate, keeping the process on target. BrainWave can also accept measured disturbance inputs, like raw materials properties, and takes corrective action before the process is pushed off target (PID, by comparison, must wait for the error to occur and then react).

BrainWave easily integrates with existing control systems and its patented Laguerre technology means an average implementation time of just a few weeks. Best of all, the plant's own staff can support and deploy BrainWave.
Control stabilization for glass manufacturing
BrainWave container glass stabilizes the glass manufacturing process, resulting in improved operation, increased production, and reduced energy consumption. It stabilizes furnace temperature at the throat to provide consistent glass quality and temperature to the forehearths. BrainWave is also able to stabilize the forehearth itself and, by doing so, minimizes energy consumption and provides uniform glass to the gob cutters or forming machines.

BrainWave container glass provides very stable control of all forehearths, whether they use a nine-point grid or conventional measurements. BrainWave considers the effect of each actuator and measurement and predictively adds or removes energy to keep the glass on target in the future. Over time, this permits the forehearth profile to maintain an ideal state for maximum production and higher pack rates. Stabilization after a job change is remarkable - often reduced to 10% of the stabilization time prior to the BrainWave installation.

The viscosity of glass changes by about 1% per degree. Therefore, even a few degrees of error can significantly affect glass forming. By achieving responsive, precise temperature control with BrainWave, customers can improve plant yield and production by decreasing defects and out-of-specification products. Better glass temperature control also increases plant profitability by increasing the pack rate and by reducing energy consumption per product produced.