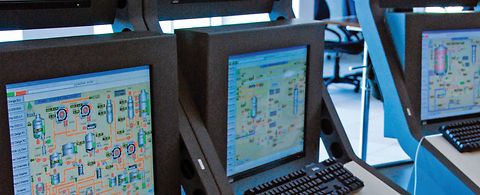 BrainWave digester
The solution for stabilizing and improving digester performance
Control stabilization with BrainWave
BrainWave is a patented advanced controller that outperforms traditional Proportional-Integral-Derivative (PID) control systems because of its two main components: an adaptive model and a predictive controller. BrainWave builds its own live models during normal plant operations, a powerful feature not offered by traditional Model Predictive Control (MPC) systems.

BrainWave's predictive controller accurately forecasts process responses and accounts for multiple objectives. It adapts to process conditions, such as changes in production rate, keeping the process on target. BrainWave can also accept measured disturbance inputs, like raw materials properties, and takes corrective action before the process is pushed off target (PID, by comparison, must wait for the error to occur, and then react).

BrainWave easily integrates with existing control systems and its patented Laguerre technology means an average implementation time of just a few weeks. Best of all, the plant's own staff can support and deploy BrainWave.
Control stabilization for digesters
BrainWave is a proven control system that uses patented model-based predictive adaptive control technology to stabilize the overall control and performance of digesters.

BrainWave provides precise control of the chip bin, IV, and the digester level. This, combined with Kappa, EA, and white liquor temperature, provides a consistent cook and uniform residence time throughout the cooking plant, which is proven to reduce Kappa variation by 50% to 85%. This precise Kappa control can reduce bleach plant costs and is certain to improve the quality of the pulp.

BrainWave permits consistent automatic control, without burdening the operators with the variation of conventional controls. In addition, BrainWave keeps the critical loops of the process closed and running in automatic. Stabilizing the level in the chip bin, IV and digester, and using a special patented BrainWave algorithm for just this type of response, ensures a uniform cook time for all chips. The white liquor temperature is stabilized and the BrainWave H-factor control will adjust that target. The EA and white liquor to wood ratio controls are then adjusted to further reduce the variation in Kappa and other performance metrics.