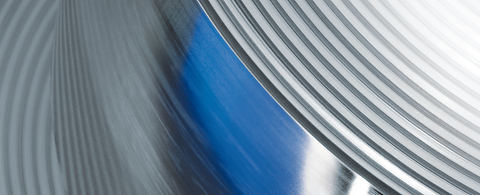 Coating lines
ANDRITZ coating lines are well-known for their optimized line configuration, easy accommodation of product, and color changes.
Metal strip is coated using multi-layer technology to meet visual requirements on the one hand by applying different colors, and to protect the final product on the other hand against corrosion, chemicals, UV radiation, and mechanical scratches.

The final products of ANDRITZ coating lines are used for
can stock material (food and beverage cans)
the building industry (trapezoidal shapes, sandwich elements for roofs and walls, doors and gates, or ceiling elements)
household appliances (so-called white goods, such as refrigerators, freezers, stoves and ovens, washing machine shells)
Product description
ANDRITZ coating lines operate in a wide product range: The processed substrates can be uncoated carbon steel, hot-dip or electrolytic galvanized steel, or nonferrous material, especially aluminum.

As a first step, the material is pre-cleaned to ensure a uniform and clean substrate surface. Subsequently, the surface is activated by means of chromate-free conversion to obtain good corrosion protection and ensure that the subsequent prime coating adheres well. This can be applied either to the top and/or bottom surface. Before entering the next process step, the strip must be dried evenly.

For multi-layer coating, a finish coat can be applied on top of the prime coating layer (also to the top and/or bottom surface) to meet the highest quality demands on the final product.

Before final cooling, a device can be installed to apply a protective foil to the hot surface, depending on customers' requirements.

Finally, the strip can be inspected in the inspection area and classified according to the customers' specifications and the demands of the market.
Customer benefits
High flexibility in production due to wide product range with the ANDRITZ roll coaters.
Reduction of emissions from solvents in the paint by using oxidizers in order to comply with environmental regulations.
Best surface quality by ensuring a continuous process with selected components of high availability
Process routes optimized for production and maintenance purposes
Single-source concept, complete line supplied by ANDRITZ