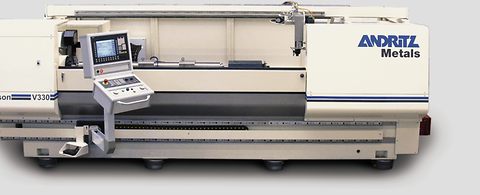 Roll grinders
The ANDRITZ METALS Lynson V series is an ultra-precision, CNC-controlled roll grinding machine which builds on new concepts, setting the benchmark for the next generation of roll grinding machines.
The high-end control system, coupled with the superior mechanical design, makes it a state-of-the-art, cutting edge tool for achieving high-production and high-accuracy roll grinding as well as efficient sheet metal production.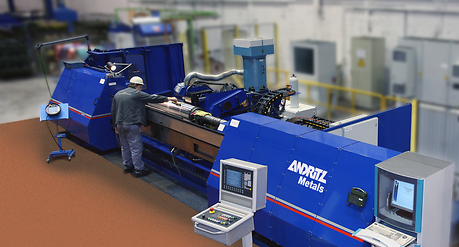 Product description
Roll grinders ideally complement the product range of ANDRITZ METALS. With its high-precision, CNC-controlled V series, ANDRITZ METALS is setting the standards for the next generation of roll grinders. The unique mechanical concept and its automatic control system result in high grinding efficiency by the machine.

The ultra-modern machine base is filled with a concrete quality to match the natural frequency of the machine. In comparison with a conventional cast iron machine base, far better vibration absorption (up to seven times higher at all frequency ranges) and improved thermal properties can also be achieved. Due to its enormous rigidity, the machine can be placed on standard machine bases. Expensive spring-supported foundations are not required.
In contrast to conventional grinders, the ANDRITZ METALS Lynson V series has a moving head stock and a stationary roll. This translates into higher grinding speed and dynamics as well as shorter machine lengths. Optimum concentricity of the grinding wheel is achieved by the hydrostatically supported spindle in combination with the automatic balancing system.

The central computerized control system with integrated safety functions is based on high-end technology standards and designed in compliance with EC guidelines.


The user-friendly operator interface enables menu-assisted input of the grinding programs, without the need for detailed programming knowledge.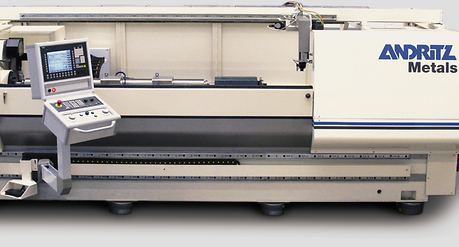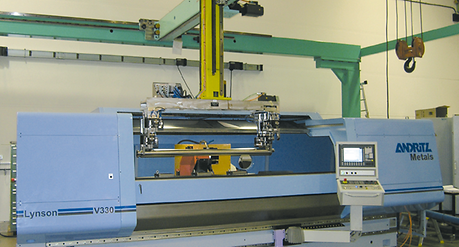 Strengths and benefits of the roll grinders
Higher productivity thanks to shorter grinding times compared to conventional roll grinders
Tighter tolerances and better quality thanks to the unique machine design with travelling wheel head and stiffer machine bed
Lower investment cost as the machine is more compact than conventional grinding machines. Less space required on the factory floor. No spring foundation needed.
Reduced foundation cost as the high-damping machine bed is placed on vibration isolators.
Guideways with good straightness mean high grinding accuracy.
Lower friction with special, coated guideways in oil sump
Shorter machine length and reduced installation space in the workshop due to moving grinding wheel head
Hydrostatic spindle creates perfect roundness.
Automatic balance system means high grinding accuracy and good roll surface.
CNC-controlled tailstock system leads to reduced loading/unloading times.
Low taper deviations thanks to high-precision guideways
Stable grinding process is ensured by automatic, high-precision steady rests, designed by ANDRITZ METALS.
Short and stable in-process roll measuring device, designed by ANDRITZ METALS, with diamond-coated tools provides longer lifetime.
Electrical control via IPC-based software CNC system
Operator control via LCD screen and intuitive human-machine Interface (HMI)