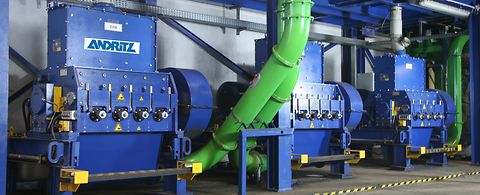 Universal Cutting Mill USM: High precision for the fine cut
The Universal Cutting Mill USM granulates precisely and quickly material already pre-shredded.
The results are defined, pure-grade granule sizes of secondary raw materials, which can be used for the production of new products. The Universal Cutting Mill USM is especially suitable for the fine granulation for the recycling of used tires, plastics and cables and is mostly used as the final shredding step in a complete process. The machine shreds the material to 0-4 mm and thus breaks up the last remaining material composites. The individual fractions can e.g. subsequently be separated with a non-ferrous separator. The individual fractions like copper, aluminum and plastics are then available in a high purity and quality.

Operational principle
Similar to the operational principle of the Universal Granulator UG, the fine granulation in the Universal Cutting Mill USM is carried out with the shearing effect of rotor and stator knives. The "double helical cutting geometry" enables a precise cutting gap over the complete working width of the machine and ensures at the same time a power favorable cut. The granulation screen mounted underneath determines with variable hole sizes of 0-4 mm the granulation as well as the respective throughput.  Underneath the screen a collection tray is placed, from which the granules are pneumatically sucked off or transported with a discharge screw conveyor.
Input
Aluminum and copper cables
Tire rubber
Plastics
PVC floors
Injection molding
Film waste
Paper
Benefits of the Universal Cutting Mill USM
Precisely cut and homogenous final fractions
Robust machine construction, absorbs vibrations
Power favorable cutting geometry
Energy-saving drive with safety coupling system
Low space requirement, many possibilities to integrate in existing installations
Long lifetime of stator and rotor knives
Short downtimes due to fast knife changes
Quick change of screen due to integrated hydraulic folding device
Reinforced feeding shaft with safety systems and hydraulic opening for maintenance
Low wear due to tempered special steel
Protected rotor shaft, as it is placed outside of the grinding chamber
Good heat dissipation due to the use of solid, high quality steel
Constant development (last revision in 2015)
Wealth of experience in the fine granulation of all kinds of materials
Worldwide references