Belt drying system BDC
ANDRITZ SEPARATION belt dryer/cooler BDC
The ANDRITZ SEPARATION belt dryer/cooler BDC is available with gas-, oil-, or steam heating and can be applied for bulk material or food. The drying of the product takes place on a ventilated conveyor belt. Depending on the type of product we can offer either a single-belt dryer or multi-belt dryer.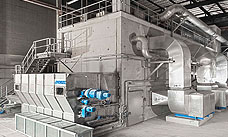 ANDRITZ SEPARATION belt dryer/cooler, type BDC
The BDC belt dryer is a continuous convective belt dryer. A well-ventilated layer of product is put on a wire mesh or perforated plate belt conveyor and conveyed continuously through drying chambers. In these chambers, circulating air fans blow hot air through the product vertically. In this process, the circulating air is reheated after each product flow by the heat exchangers integrated into the dryer.
The amount of air required to discharge the exhaust vapor from the belt dryer is sucked in by a radial fan and fed to the appropriate zones of the belt dryer. Due to the arrangement of the air inlet and outlet ducts to and from the appropriate zones, the drying air is passed repeatedly through the product layer until it has the optimum vapor content before leaving the dryer.
Range of applications
ANDRITZ SEPARATION belt drying or conveyor drying systems are used in food and stimulants, and for dyes and pigments. The belt dryer is suitable for drying free-flowing, crumbly, crystalline, and lumpy products, as well as malleable pastes.
System strong points
Easy maintenance and easy- clean options with simple and efficient access to all internal components
Easy operation with a fully automatic control system
Plants can be built in full compliance with ATEX safety regulations
High thermal efficiency due to the integrated air circulation fans, thereby optimizing the exhaust air volume and heat recovery from the dryer exhaust
Good adaptation of the temperature profile to the drying behavior of different product qualities
Capacity from about 200 kg up to 4 tph water evaporation per drying plant
Belt dryer series
The ANDRITZ SEPARATION BDC belt dryer has a modular design, with band widths of 1-3 m and a drying belt-surface of about 6 to more than 100 m2.
The arrangement of the belts determines the dryer type:
Type BDC-S (Single-Belt Dryer):
Products that tend to generate dust and thus cannot be relocated are dried on a single belt. In this process, optimum drying can be achieved by reversing the direction of air flow through the product.