ANDRITZ Fluid bed drying system FDS
The fluid bed drying system with direct feeding converts dewatered sludge into almost dust-free granules with > 90% DS. The thermal heat for evaporation of the water is transferred indirectly by a heat exchanger immersed in the fluid bed. The fluid bed dryer is integrated into an inert gas loop system.
The fluid bed drying system (FDS) is designed for drying of mechanically dewatered sludge in the fluid bed dryer filled with dried granules. The granules are suspended in a gas stream passing through the product layer.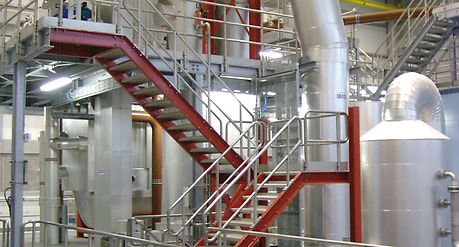 The dewatered sludge is pumped into the fluidized bed of dried granules and cut into small pieces by a special device inside the dryer. These wet granules are mixed immediately into the dry granules of the fluid bed which have already been dried. Fluid bed drying with direct sludge feeding does not need a dried product recycling system and is flexible with regard to different sludge properties.
The thermal heat for evaporation of the water is transferred indirectly via the heat exchanger to the fluid bed. The heat exchanger transfers all the energy necessary for evaporating the water contained in the dewatered sludge. There is no contact between the product and the energy transferring media. Steam or thermal oil is an ideal heat transfer medium to use for the in-bed heat exchangers in the stationary fluid bed unit.
Due to the favorable heat and mass transfer conditions, the water contained in the sludge evaporates immediately and the particles are dried to > 90% dry solids (DS). The almost dust-free granules can be shipped easily, stored temporarily, and used in thermal applications as fuel in cement kilns, power plants, or waste incinerators.
The fluid bed dryer operates in a closed inert gas loop system (< 8% by vol. oxygen in relation to the dry gas) and guarantees a high degree of safety in each of the operating conditions (start up, operation, shutdown, quick stop). The closed and sealed gas loop is self-inertizing by gases contained in the sludge and by the evaporated water itself. There is no need to inject inert gas during the drying process.
The inert gas with low oxygen concentration is also used for dried product cooling (temperature < 40° C), transport, and storage of the dried material. Safety has highest priority in the drying systems. Due to the closed plant design, the exhaust gas flow from the fluid bed dryer is extremely low (approximately 100-200 m3/h). The drying plant can be operated fully automatically, resulting in a minimum of operators and no need for operator attendance at night.