Screen scroll centrifuge AH
You are facing highly fluctuating feed conditions or sticky products? The screen scroll centrifuge may be the ideal solution for you as it is robust and reliable towards difficult feed conditions and simple in operation.
The screen scroll centrifuge is a continuous filtration centrifuge for solid liquid separation. With hundreds of installed units and over fifty years of experience it is designed to perform reliable and efficient, even under difficult process conditions when feed flow and quality is fluctuating strongly.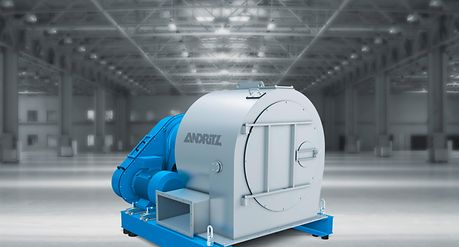 The unique XL-Plus feed system avoids particle breakage during feeding
Slurry is smoothly accelerated up to rotating speed by the unique XL-Plus feed system
Solids recovery of up to 98% can be achieved as particle breakage in the feed zone is avoided
Operational convenience
Self cleaning: On feed interruption the machine cleans out itself due to the integrated scroll
The machine is very robust to imbalances even upon strongly fluctuating feed conditions
In-depth process know-how and lab testing facilities
With experience in hundrerds of different applications our process engineers know in detail what is happening inside our centrifuge and what is to be expected in your installation
In our state of the art lab we can offer you a broad range of tests, from small scale feasibility studies to full scale equipment tests everything is possible
Typical process data
| | |
| --- | --- |
| Average particle size: | 100 - 10,000 um |
| Feed solids concentration:   | Up to 80 wt% |
| Solids throughput: | Up to 150 t/h |
| Basked diameter: | 400 - 1,000 mm |
| Solids recovery: | Up to 98wt% |