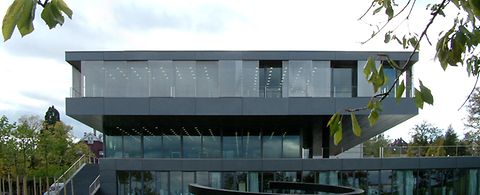 Euroslot Series
A subtle play between transparency and light
ANDRITZ Euroslot, a global supplier of wedge wire filtration and separation components established it's reputation in architectural applications many years ago.

As a specialist in manufacturing heavy-duty products with very long life-cycles ANDRITZ Euroslot only uses materials which meet highest demands. That's why all our products are made of stainless steel or duplex stainless steel – material you can rely on even in the most demanding environments like seacoasts or stormy areas. Cost-efficient, thanks to its long lasting and recyclable qualities, stainless steel meets the criteria of sustainable development. At ANDRITZ Euroslot environmental concerns are high on our agenda.  For many years we have taken an eco-friendly approach to our own company management (recycling manufacturing waste, selective sorting, and many others). No wonder we have been invited to become involved in so many projects where environmental issues are a priority.
Euroslot Series
Our application area ranges from complete facade facings, ceiling and floor coverings to small facadce highlights and ventilation faceplates and many other applications. Our technical advisors can help you find the perfect solution for your project – contact us and allow yourself to be convinced by our limitless possibilities.