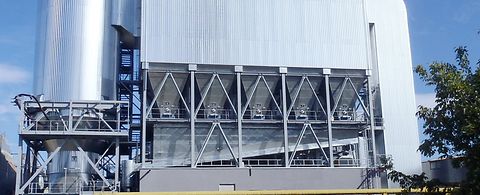 Air pollution control
Our products range from flue gas scrubbers for power stations to complex flue gas cleaning systems for Energy-from-Waste plants. Thanks to a wide product portfolio, innovativeness in engineering and long experience in executing projects, ANDRITZ has the right solution to meet all environmental and financial goals.
Maintaining the energy efficiency of your processes, complying with the strictest licensing procedures, and developing tailor-made solutions for your plant are the cornerstones of ANDRITZ's approach.
We offer air pollution control technologies for
Industrial plants (including energy-from-waste plants and biomass plants)
ANDRITZ air pollution control products meet the requirements for complying with the world's strictest emissions legislation, the desire for low consumption of additives, the need for minimal residues, and the installation simplicity of a compact design. Quite often, our systems are delivered turnkey to ensure single-source accountability and efficiency.
Cutting-edge engineering tools and global R&D collaboration with a network of recognized partners and universities lay the foundation for our work. Early identification of each client's needs help ANDRITZ make a long-term contribution to clean air and a clean environment.