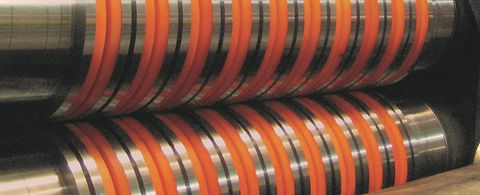 ASKO Slitter Knives & Accessories
Slitter Knives, Scrap Choppers and Edgemaster™
As a trusted partner for all your coil slitting needs, ANDRITZ provides ASKO slitter tooling systems and spare parts for ferrous and non-ferrous coil slitting.
ASKO slitter knives, shear and scrap chopper knives are available in a wide range of tool steel grades, each engineered and custom designed to the demands of customers' specific applications. Ask us about our HXT slitter knives for processing Advanced High Strength Steel!
Depending upon your application, we provide slitter tooling in various tolerances to meet your specific requirements. For slitting the lightest gauges, the most precise slitter knife and spacer tolerances are often required. For these applications, ASKO tooling is manufactured to the most exacting precision.
Our proprietary EdgeMaster™ software is the only solution for slitter tooling setup that analyzes your historical slitting data, evaluates your operating conditions and displays what your edge will look like before you make a cut. With a precise, computer-generated, arbor-loading sequence and a simplified system of knives and spacers, slitters can obtain any mult width in increments of 0.001″/0.025mm or better. Improve slit edge quality, improve set-up accuracy and speed the set-up process.
To add value to the slitter knives we produce for slitting line applications, our field and customer service engineers can work closely with customers on performance, slitter tooling selection, operator training and maintenance. Additionally, our facilities expertly regrind and refurbish slitter knives, shear and scrap chopper knives to their original specifications.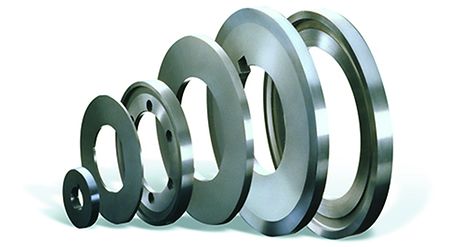 Advanced High Strength Steel Solutions
Most installed equipment and tooling are severely challenged to cope with the processing demands of this extremely high tensile class of material. ANDRITZ engineers created a solution to this problem. We developed a revolutionary knife specification that is customizable to suit your application.
HXT knives excel on your slitting machines. Our HXT® knives wear 5 to 10 times longer than conventional knives and are ideal for edge trimming and slitting of advanced high strength steel (AHSS) strip and sheet.
With tensile strengths ranging from 600 MPa to 1700 MPa, HXT® knives' unique physical and metallurgical properties enable processing of high tensile strength materials without interruption, and without coil edge deterioration.
Accessories
Whether you need a complete slitter tooling package or a small number of replacement parts, we have the products and technical support to meet your needs. Our slitter tooling systems and accessories include custom designed, engineered solutions to meet all your specific needs.
We supply a wide range of accessories, including:
Bolts
Etching / Marking Kits
AMTEC Hydraulic Nuts and Precision Pumps
Knife Boxes
Knife Seats
Overarm Tooling (Micarta, Nylon, Aluminum and Steel)
Separator Discs and Plates
Shims
Slitter Spacers (Steel, Bonded, and Lightweight)
Stripper Rings
Transfer Boxes and Cabinets
Training Seminars and Technical Assistance