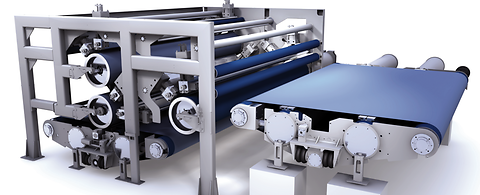 State-of-the-art hydroentanglement units
Hydroentanglement units produce fabrics using all types of raw materials, staple fibers, and continuous filaments.
The neXjet  injectors are the core of the hydroentanglement process
The ANDRITZ hydroentanglement process is based on a number of key patented components. The core of the hydroentanglement unit is the neXjet injector, which delivers high performance up to 400 bar pressure. Its performance is the key to producing first-class needle water for the process.  
The patented injector design ensures water purity and produces excellent distribution. To maintain water purity, a cartridge inside the injector performs final filtration of process water just before the water needle strip. Another innovation is the patented seal-holding system that allows routine injector maintenance without downtime and ensures a perfect seal.
EXH (EXtra Hard) strips were developed by our experts using the latest computer-based fluid mechanics modeling tools. The EXH strip is made of extra durable materials to resist wear caused by water passing through the injector holes at high speeds.