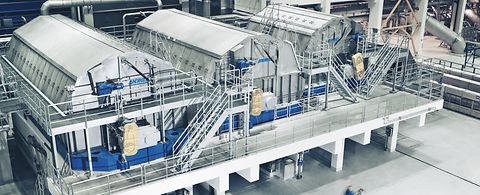 Disc filter services
ANDRITZ offers disc filter services and upgrade solutions for all disc filters, regardless of the original manufacturer.
Experience of decades in disc filter design and manufacturing and the combined expertise of engineers from ANDRITZ, Ahlstrom, Impco, and Hedemora give ANDRITZ a definite advantage when upgrading your disc filter.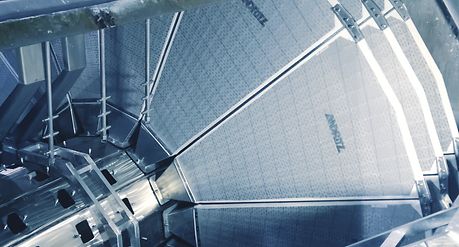 Disc filter upgrades
ANDRITZ SuperFlow sector: Large open filter area and high drainage capacity result in high pulp mat dryness and greater production capacity.
ANDRITZ trunk nozzle filtrate valve: Increases dewatering capacity and improves dryness by up to 30% due to longer vacuum time and improved efficiency of subsequent units. Return on investment in less than one year.
ANDRITZ center shaft exchange: Higher throughput combined with minimum flow losses.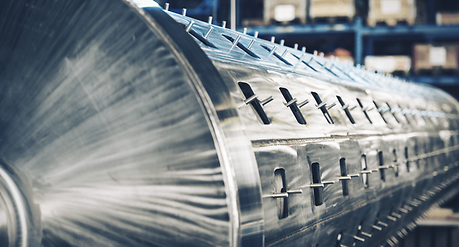 Disc filter services
Mobile disc filter bag exchange
The old way of exchanging disc filter bags by shipping segments back to a supplier is time-consuming, slow, and expensive. ANDRITZ developed a new solution – the mobile disc filter bag exchange which comes right into the mill. When UPM Augsburg was faced with the major task of exchanging the filter bags of five disc filters all at once, ANDRITZ's new solution was needed. Read more.
ANDRITZ disc filter improvement survey
ANDRITZ specialists identify areas for process and product improvement (capacity and/or filtrate quality) and make recommendations to achieve the best results.
ANDRITZ Leaf Tester
ANDITZ can provide on-site disc filter tests for comparative evaluation of various filter types (sector designs, bag fabrics) and process parameters. Based on the analysis of stock samples collected directly at the customer's disc filter under real operating conditions, the improvement potential can be determined.