SpiroSand for removal of sand and heavy sediments from sewage effluent
The SpiroSand is a simple and reliable piece of equipment that removes sand and heavy sediments as well as floating debris from sewage effluent before they are able to plug equipment or cause abrasive wear to downstream machinery.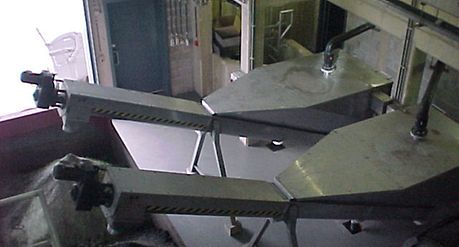 Benefits
The SpiroSand includes a shaftless screw device that rests on high-resistance wearing bars. When in the pulling position, the drive unit is installed at the top end of the unit, ensuring a watertight shaft seal.
Less sediment in wastewater and other fluids thanks to effective separation
Higher overall system capacity by removing impurities before processing
Reduced abrasive wear on downstream machinery and equipment
Smoother operations, reduced chance of plugging
Overall reduction of waste volume because fluids can be re-used
High-quality components for reliability and long life
Principle
The water/sand mix enters from the top of the tank.
The special inlet area design makes the flow laminar for better decantation.
Sand settles at the bottom and is transported slowly through the submerged section of the U-trough (5 rpm). Once the level of the sand in the U-trough is higher than the water level and before reaching the discharge point, the excess water drains back down into the reservoir, leaving the sand relatively dry.
Floating debris is also removed.
Water is circulated through an overflow system.
Applications

Environment
Municipal wastewater
Industrial wastewater
Range
| | | |
| --- | --- | --- |
| Model | Nom. Capacity (m3/hr) | Tank volume (m3) |
| SpiroSand SD260 | 20-50 | 1.2 |
| SpiroSand SD320 | 50-75 | 1.8 |
| SpiroSand SD355 | 75-100 | 3.3 |
| SpiroSand SD420 | 100-125 | 4.2 |