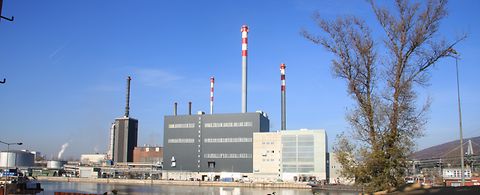 ANDRITZ PowerBlast boilers for process gases
PowerBlast boilers are used for the combustion of process gases such as blast furnace gas, coke oven gas, and LD (basic oxygen) converter gas for iron and steel processes that require strict control of gas emissions.
Environmentally friendly disposal plus steam generation
The combination of strict emission requirements plus the target to become more energy efficient are the drivers for the iron and steel industry to install systems that can dispose of process gases in an environmentally friendly way, while generating high pressure steam for combined  electricity and heat production.
 PowerBlast blast furnace gas boilers are customized for the combustion of blast furnace gas, coke oven gas, and LD converter gas. The units are available in modern bottom supported single-drum design for smaller units, or El Paso (radiant boiler) design for larger units. The high-pressure steam generated by the PowerBlast can be fed to a turbine and, following partial expansion, be employed as industrial steam or for district heating.
Benefits of the PowerBlast boiler
PowerBlast boilers are designed to accommodate a wide range of fuel heating values and composition.  The advanced multi-burner technology in the boiler helps achieve low emissions. The El Paso configuration can include a re-heater to enhance energy efficiency.
 ANDRITZ's long experience with blast furnace gas firing, in combination with modern engineering tools and design methods, produce a PowerBlast boiler with the highest technology and quality standards.