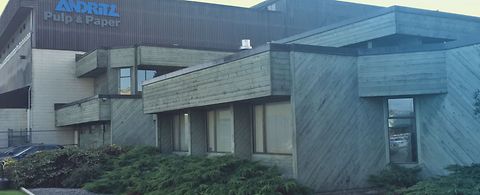 ANDRITZ Ltd. - Delta Service Center
The Delta Service Center is dedicated to supporting new construction and rebuilds of pulp and paper equipment such as continuous digesters, M&D digesters, vacuum washers, twin roll presses, Compaction Baffle FiltersTM, thick stock pumps, and recausticizing filters.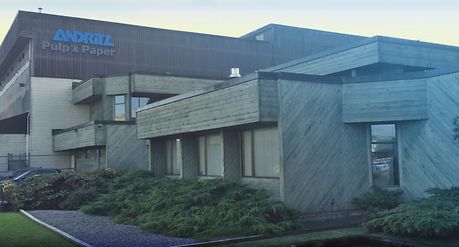 Company Profile
ANDRITZ 74,000 sq. ft. facility offers the following capabilities:
Machining
     
8 Overhead cranes
Up to 70 tons capacity
Small – medium lathes
5 ½" Ø to 18" Ø swing by 12' long
Large lathes
47" to 168" Ø by 50' long
Vertical boring mill
48" to 218" Ø by 13' under the bridge
62.5" x 30" & 2 with 4" spindles
Horizontal moring mill
5, 2 with 5" spindles & 3 with 4" spindles
63" x 70.9" full rotary table & 33,000lbs capacity unit
Floor mill
6" spindle with 40' horizontal by 124" vertical travel, c/w 25 ton rotary table
Cylindrical grinding
3 to 20" Ø by 120" long
CNC horizontal boring mill
118" x-axis; 78" y-axis; 63" z-axis
CNC vertical machining centre
60" x-axis; 30" y-axis; 30" z-axis
Dynamic balancing
Up to 122" Ø by 480" long at an 80 ton capacity
| | |
| --- | --- |
| Fabrication |   |
| SMAW, FCAW, GMAW, GTAW processes |   |
| Davi plate rolls | 5/8" x 98" wide |
| Plasma seam welding | 13' long |
| Sub arc overlay |   |
| Plasma transferred arc hardfacing |   |
Certificates
SKF Preferred Service Partner – Pulp and Paper
National Board "R" Certificate of Authorization
ASME "S" and "U" Certificates of Authorization
Product lines
Digester systems
Repair, rebuild, or supply new fiberline equipment including:

Chip meters
Low and high pressure feeders
Conveyor screws
Top separators
Outlet devices

Repair and rebuild customer equipment including:

ANDRITZ Sprout-Bauer rotary valves
Esco valves
ANDRITZ Sprout-Bauer rotary valves
Esco valves
Thick stock pumps (TSP) and new spare parts
Repair customer equipment or supply new and rebuilt exchange/replacement TSPs including:

Impco™ pump*) (300,400,500,600,800)
Clove-Rotor® pump *) (600,1200,1200HC,1400,1800)
Warren TSP (11,125,135,138,160)
Kamyr TSP (K4, K5, K55, K6)
Sunds TSP (PTC45, PTC60)

New cast and fabricated or one piece forged Impco™ rotor options
New cast and fabricated Clove-Rotor® pump main rotors
100% CNC machining and finish milling of the rotors
Dynamic rotor balancing to G1.0 specification available
PTA welded hard overlay on Clove-Rotor® pump main rotors and warren main screws
CNC machining of the warren main screw flanks
Housing hard chrome and finish bore grinding
New anti-pulsation plates, packing glands, lantern rings, gears etc.
New hard overlaid packing sleeves, CNC milled scraper petals, seal strips etc.
Critical patterns associated with key TSP cast components are maintained on site at the Delta Service Centre(DSC)
These patterns include, but are not limited to, main housings, main rotors, bearing housings, rotor covers, glands.
ANDRITZ has developed and implemented numerous design and productivity improvements across all thick stock pumps.
*) Clove-Rotor® pump and Impco™ are trademarks owned by GL&V
Vacuum washers and ancillary equipment
ANDRITZ washer drums
New, replacement vacuum washer drums of nearly all OEMs
Washer drum rebuilds
Valve replacements, including the GasFree™ valve
Combination doctors
Maxton™ rolls
Shower bars
Stainless steel vats
Stainless steel hoods
Repulpers and conveyors
ANDRITZ Ltd. - Delta Service Center