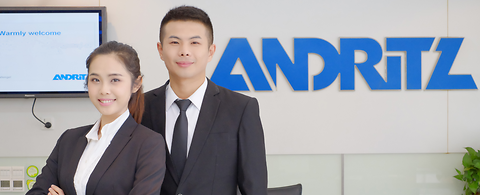 Jobs and careers at ANDRITZ China
Good maps with a strong partner
Investing in people – Utilize employees' full potential
Corporate success is strongly dependent upon the competence and commitment of employees. ANDRITZ (China) Ltd. funds the professional development of its employees. Human resources management, with issues such as staff development, leadership, and management responsibility, is given top priority. A successful management training program ('Management Challenge') has been an integral part of human resources development for several years, extending from our headquarters gradually to China.
Personal professional development and advancement go hand in hand with employee performance and satisfaction. This is why we offer a wide range of training and courses on topics like technical know-how, personality/leadership, language skills, computer systems, project management, and health & safety.
Equal opportunities: ANDRITZ is committed to treating all employees equally. The promotion policy ensures that the potential and development of all employees are promoted equally.
Transfer opportunities: ANDRITZ believes that everyone should be assigned the position which can release all their potential. The impeccable transfer policy ensures that all employees find the right position.
Working at ANDRITZ – A big family
The management team spares no effort to improve the company's culture construction. Because of this, the management concepts, the management guideline, and the enterprise spirit are deeply rooted in the employees' minds. "Family" culture is our unique cultural identity. We carry out employee surveys on the overall work experience in the company and develop action plans to achieve improvements. The company also holds a lot of activities, like sports matches, tours, or family days, which enrich the employees' lives greatly.
We are looking forward to receiving your application
ANDRITZ is looking for personnel who will provide committed and entrepreneurial performance in a challenging and rewarding environment.
ANDRITZ appreciates diversity in all its forms. We value employees from various backgrounds who bring new ideas and perspectives to our business. This diversity triggers innovation and provides a global competitive advantage.
Our goal is to offer a positive and balanced work environment where everyone is treated with respect and fairness.
If you are interested in joining our ANDRITZ team, please pay attention to the career guide website of your school and the following websites to get more information about the open positions: