Local manufacturing
ANDRITZ (China) Ltd. applies highest standards throughout its operations, e.g. in planning, engineering, manufacturing, subcontracting, assembly, shipping, site installation, and start-up support. This ensures that our customers receive products of the highest quality on time and at the agreed upon cost.
Quality throughout all processes
The quality management (QM) team of ANDRITZ China is dedicated to ensuring that the products and services supplied to our customers comply with all requirements and specifications. QM uses tools like e.g. Lean Six Sigma or SRCA to continuously improve processes and performance in order to achieve sustainable customer satisfaction.
Investing in people
ANDRITZ China offers its employees a broad variety of vocational training and further education in order to support the development of personal and professional potentials. This focuses on the further development and the broadening of specialist knowledge, personal development, language skills, computer literacy, as well as project management.
R&D in China
ANDRITZ (China) Ltd. also focuses on technology research and development. 119 R&D projects were established internally by ANDRITZ China from 2009 to 2013 and three of them were part of a government project and accepted successfully. The annual R&D costs account for more than 3% of the annual revenues. This all contributes to ANDRITZ China´s special recognition as a high-tech enterprise.
The cornerstones of our continued success are globalization, continuous organic growth combined with complementary acquisitions, great technological innovative power, and customer orientation.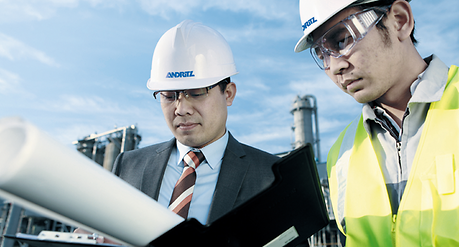 ANDRITZ (China) Ltd. was founded in 2002, it is a wholly owned subsidiary of ANDRITZ Group with a staff of over 1,600 employees. ANDRITZ China has branch offices in Beijing, Shanghai, Chengdu, Wuxi, and  manufacturing centers in the Chancheng and Sanshui districts of Foshan and in Chengdu. Only in Foshan, the covered factory area has exceeded 68,000 m2.
ANDRITZ (China) Ltd. is committed to supplying technology and solutions for the hydro, pulp and paper, metals, and separation technology businesses as well as for other industries and to continuously introducing advanced technology from the ANDRITZ GROUP to China to provide first-class products and services to Chinese customers.
ANDRITZ is a globally leading supplier of plants, equipment, and services for hydropower stations, the pulp and paper industry, the metalworking and steel industries, and for solid/liquid separation in the municipal and industrial sectors as well as for animal feed and biomass pelleting.
International technology Group ANDRITZ has a staff of around 25,400 and operates more than 250 sites in over 40 countries. It is listed on the stock exchange in Vienna, Austria.