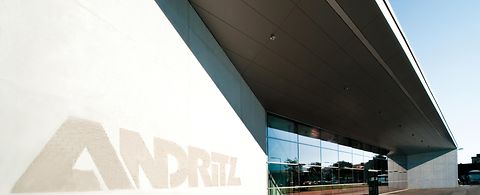 ANDRITZ recognizes the importance of protecting the personal privacy of its customers, potential customers, employees, potential employees, investors, suppliers, consortium partners and website visitors. This data privacy declaration describes the information that may be collected by ANDRITZ legal entities, through our websites, through our locations and through your communications with us. It also informs about your rights and choices you can make about our use of your personal information and how we protect your personal information.
SCOPE AND TERMS USED
While this website may contain links to other websites, this data privacy declaration applies to this website andritz.com operated by ANDRITZ AG. Unless otherwise indicated, all references to "ANDRITZ," "we" or "our" in this data privacy declaration shall mean ANDRITZ GROUP.
Some of the sites may contain links to the websites of other ANDRITZ legal entities or to the websites of third parties. ANDRITZ is not responsible and has no liability for the privacy policies or practices of those websites. We recommend that you review the data privacy declaration of each website you visit.
As used in this data privacy declaration, "personal information" means information that may be used to identify a specific individual, or that is about an identifiable individual, such as name, e-mail address or phone number.
INFORMATION WE COLLECT AND HOW WE USE IT
You can visit our sites and discover our products, services, companies and worldwide activities without providing personal information. To send further requests, use some of our services or receive newsletters, you will need to provide certain personal information. ANDRITZ does not collect any personal information unless you provide it voluntarily. You may also choose to provide personal information to us when visiting ANDRITZ locations or corresponding with us by mail or e-mail.
Request forms:
We may ask you to provide personal information in order to allow us to respond to your requests for information or other requests made over our website. As part of our request forms, we collect your name, e-mail address, mailing address and other contact information (company, position in company, address, phone number). We may ask for other information in connection with specific products, services, events or other activities to better customize your website experience or our offers to you. We indicate at the time of collection which information is mandatory and which information is optional to provide.
E-Mail newsletter:
On the newsletter section of the sites, you may provide us with your name and e-mail address in order to subscribe for different ANDRITZ newsletters, which contains information about ANDRITZ and its activities. Alternatively, you may provide us with your mailing address in order to receive newsletters by mail.
Customer magazines / communication activities:
On subscription pages, you may provide us with your name, e-mail address, mailing address and other contact information (company, position in company, address, phone number) in order to subscribe for different ANDRITZ communication activities, which will be utilized to inform you about ANDRITZ GROUP and its activities.
Non-personal information:
We collect non-personal information such as your Internet browser type, operating system, and the IP address of the website from which you are linked to the sites. We use this information to help us tailor our sites in a manner to better match your computer settings, interests and preferences.
RETENTION:
We only process personal data for as long as necessary to pursue the above-mentioned purposes. However, due to statutory retention requirements, we might also have to store personal data for a certain period of time even after these purposes have been achieved. Personal data required to be held harmless against any liability claims will be stored for as long as needed for this purpose.
COOKIES POLICY
ANDRITZ wants to offer you the best online experience. Therefore we use cookies to analyze, optimize and personalize content and ads, as well as to provide social media features. We also share information about your usage of our site with our social media, advertising and analytics partners.
Cookies are small text files stored by your browser that allow us to learn more information about your visit or use of the Sites.
Most browsers automatically accept cookies. To learn more about cookies, including how to refuse cookies on your computer, click here: https://support.microsoft.com/en-us/help/260971/description-of-cookies
ANALYSIS SERVICES
Several of the service providers that we use to analyze activities on our sites also offer opt-out mechanisms as an alternative to managing the placement of cookies by these services through your browser settings (see last chapter "Opt-out"):
Google Analytics:
The sites use Google Analytics, a web analytics service provided by Google, Inc. ("Google"). Google Analytics uses cookies to help the Sites analyze how users use the Sites. The information generated by the cookie about your use of the Sites (including your anonymized IP address) will be transmitted to and stored by Google on servers in the United States. Google will use this information for the purpose of evaluating your use of the Sites, compiling reports on website activity for website operators and providing other services relating to website activity and internet usage. Google may also transfer this information to third parties where required to do so by law, or where such third parties process the information on Google's behalf. Google will not associate your IP address with any other data held by Google. You may refuse the use of cookies by selecting the appropriate settings on your browser, however please note that if you do this you may not be able to use the full functionality of the Sites.  By using the sites, you consent to the processing of data about you by Google in the manner and for the purposes set out above. To provide visitors more choice on how their data is collected by Google Analytics, Google developed the Opt-out Browser Add-on. By installing this Add-on, no information is being sent to Google Analytics.
etracker:
You can exclude the collection of anonymous data for your future visits. The exclusion from collection of visitor data is effected by setting a cookie in your browser. To set the cookie click here
Overheat:
This website is using overheat.it, a web analytics tool of the company »overheat UG (haftungsbeschränkt)« located at Haus Alsbach 2, 51766 Engelskirchen, Germany. The tool tracks interactions of random chosen users with the website in anonymized form. Thus a journal of e.g. mouse movement and -clicks is produced to show the improvement opportunities of the specific web page. In addition, data like operating system, browser, incoming and outgoing links, geographical position, screen resolution and type of the device are evaluated for statistical reference. This information is not individual-related and is not given to any third parties by overheat.it. If you do not like to be tracked, you can disable this on all web pages that are using overheat.it by setting the DoNotTrack header in your web browser. The following page explains this process: Link to page
OUR SHARING OF YOUR INFORMATION
ANDRITZ does not sell or rent your personal information to non-affiliated third parties for those parties' promotional purposes, except that as part of our customer care and marketing efforts, we may provide your name, address, contact details and similar information. In addition, ANDRITZ may share the personal information you submit with other members of our affiliated group of companies.
Other than as described in the paragraph above, ANDRITZ will not share your personal information with third parties without your permission, except as necessary or appropriate to (i) process or fulfill your order, (ii) respond to your requests or answer your inquiries, (iii) enter you in promotional activities upon your request, (iv) comply with any applicable law, court order or other judicial process, or (v) enforce or apply agreements with you, or protect the rights, property or safety of ANDRITZ or third parties, or as otherwise required or permitted by law. In addition, in the event of a corporate transaction such as a sale, merger or reorganization involving ANDRITZ or its parent companies, personal information may be disclosed or transferred to the acquiring company(ies). ANDRITZ may collect and share aggregate website statistical information (such as sales, traffic patterns or related information) with third parties. No such shared statistics will contain any personally identifying user information.
ANDRITZ may occasionally hire contractors to provide certain services on its behalf, including information processing and storage or the management of communication, marketing, promotional activities and surveys. These contractors are required to maintain the confidentiality of information they receive from ANDRITZ and are restricted from using the information for any purposes other than those authorized by ANDRITZ.
Personal data will generally not be transmitted to recipients outside the European Union or the European Economic Area, unless it is required for the fulfillment of the above-mentioned purposes. In these cases, we will ensure that such recipients are bound by respective data protection statutes (e.g. EU-US data privacy shield, standard contractual clauses).
HOW ANDRITZ PROTECTS YOUR INFORMATION
When you submit any information via our sites, that information is subject secure sockets layer (SSL) encryption technology. However, no data transmission over the Internet can be guaranteed as 100% secure. As a result, while we strive to protect your personal information during transmission, we cannot ensure or warrant the security of any information you transmit to us or receive from us. Any personal information submitted to ANDRITZ in writing is kept in a secure location. We instruct our employees and computer service providers with access to your personal information that they must comply with the principles set forth in this data privacy declaration and applicable laws.
SUBMISSIONS
Suggestions, materials or other intellectual property sent or transmitted to ANDRITZ via our sites or otherwise are governed by the separate terms applicable to such materials identified at the time of submission (if any). If no such terms are identified, all such items shall be deemed to be non-confidential and public domain, and ANDRITZ shall have no obligation of any kind with respect to such items and shall be free to use and distribute them to others without limitation, including, but not limited to developing and marketing products incorporating them.
CONTACT US
If you have any questions or comments about this data privacy declaration or your personal information, you may contact us by sending an e-mail to dataprotection@andritz.com, or by mail to ANDRITZ AG, Statteggerstrasse 18, 8045 Graz, Austria.
Austrian data protection authority
In case you feel that your personal data was not processed in accordance with the applicable law, you might file a complaint with the Austrian data protection authority ("Datenschutzbehörde") www.dsb.gv.at.
YOUR ACCEPTANCE OF OUR DATA PRIVACY DECLARATION
By using our sites, or by submitting personal information, you signify your acceptance of this data privacy declaration, consent to our use of the personal information you submit to ANDRITZ in accordance with this data privacy declaration, and you agree to adhere to the terms and conditions posted on the sites under "Terms of use". If you do not agree with the terms of this data privacy declaration, please do not submit any personal information to us.
CHANGES TO THE DATA PRIVACY DECLARATION
ANDRITZ reserves the right to modify this privacy policy at any time, so you should review it frequently. If we make changes to this privacy policy, we will post such changes here and/or on our sites.
Effective Date: May 25th, 2018
Copyright © 2018 ANDRITZ AG
OPT-OUT
If you wish to opt out of any of the data sharing practices described in this data privacy declaration, please use the following "data subject request form"
Certain information is also collected by Google, Inc. as you use the Sites; see above under "Google Analytics" for a description of what information is collected, the purposes of collection, and how to opt out of this if you object to it.
You may set your browser to reject cookies or to notify you when a web site tries to place cookies in your browser program. For your convenience, additional information about how to manage cookies for major browsers please follow the following links:
Safari: Link
Firefox: Link
Internet Explorer: Link
Chrome: Link
By using the following web form, you can make use of your "data subject rights" and submit a request to an ANDRITZ company.
These rights cover information about the personal data stored and processed by a company, the right to have one's personal data corrected, deleted or no longer processed (or only with certain restrictions), as well as the right to receive one's personal data in electronic form.