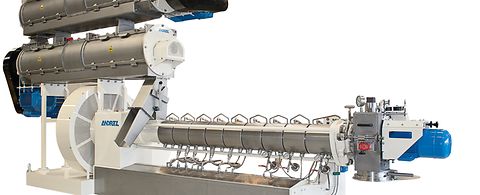 Feed and biofuel technologies products in China

---
ANDRITZ Feed and Biofuel Technologies mainly provide the following products:
Extruders: Suitable for aquatic feed and the pet food industry
The ANDRITZ FEED & BIOFUEL extruder uses advanced technology to ensure unique quality feed at minimum operating costs.
Our advantage:
High pressure, high shear, and high cooking ability can produce higher quality feed;
Unique design of the mold unloading spreader plate, the feed produced is of similar size and shows no color difference;
Cutting tool system can adjust the blade and the template of the precision-adjustment device to ensure that the product length remains consistent;
Equipped with a precision metering device for addition of water and other liquids, effectively ensuring uniform moisture content in the product;
Configuration of monitoring components for the temperature, pressure, amount of steam and water added, and online monitoring of production parameters, providing great convenience for the operation
Expansion Control System ECS
ANDRITZ-patented product and the only reliable system available today for accurate control of expansion/density.
Our advantage:
Reduces expansion
Improves the sensory and physical properties of the products
Fewer demands on raw material quality
Decreases the amount of water added during the extrusion period
Increases capacity by 25-50%
Can produce 100% sinking feed, but also slow-sinking feed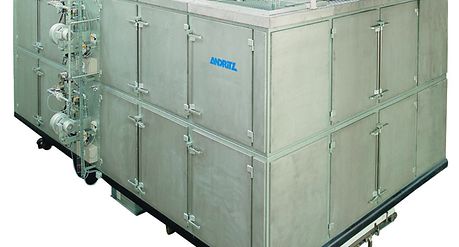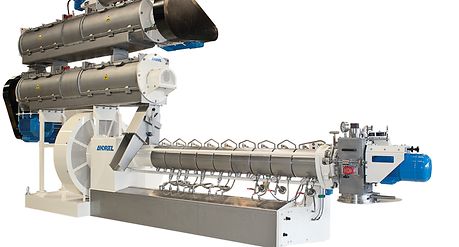 Dryer: Suitable for aquatic feed and the pet food industry
Our advantage:
Product moisture uniformity control at +/-0.5-0.75%
Soft delivery products, will not break when crushed
No excessive product drying
High drying efficiency
Specially designed partition drying according to the characteristics of the drying moisture curve
The drying temperature is stable and reliable and can be adjusted accurately in every drying zone
When changing to products of different specifications, the parameter reset is very easy
No residue in drying net and no cross-contamination
Combined structure, can be a flexible combination based on actual needs and field space available; output range: 5-30 t/h
Vacuum coater: Suitable for aquatic feed and the pet food industry
Our advantage:
Gentle product handling, no dust generated
High spraying efficiency, up to 35% of oil weight
Addition of micro-liquids
Large batch size
Improves the flavor of the product and the nutritional value
ANDRITZ Feed and Biofuel Technologies, China – aftermarket
Excellent support for aquatic feed and petfood plants. Being able to supply equipment for an entire feed pellet production plant is one thing, but being able to serve customers in terms of support and supplies from nearby warehouses after installation is yet another essential ANDRITZ competence.
Spare parts
ANDRITZ provides worldwide availability of spare parts, including dies and rolls. High-quality parts and consumables offer long life and good economy in the process plant.
Service contracts, including
Products and support
Spare parts
Wear parts
Regular service
On-line process support
Process optimization
Renovation and improvement
Recommendations for spare parts stock
Standby service technicians