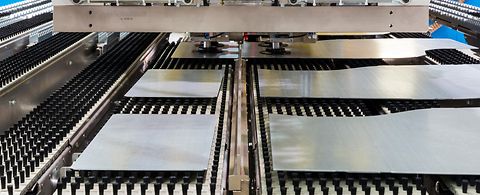 Souspeed
Souspeed laser welding system with highest output
The world's fastest laser welding system for linear weld seams (Tailored Blanks)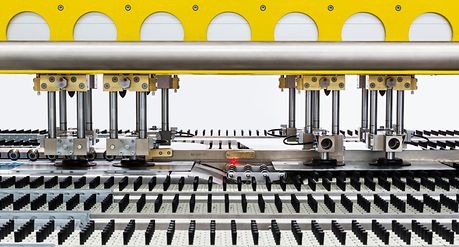 SOUSPEED is the high speed laser welding system for Tailored Blanks. This innovative system ensures superior quality while delivering 40-100% more output compared to existing TWB Welding Systems. SOUSPEED meets today's market demands and the trend towards smaller Tailored Blanks, with seam lengths in the range of 100 to 600 mm. Blanks out of mentioned range, require case by case feasibility study.
Souspeed is capable of welding thin material due to its mismatch-control, and also of welding small and complex shapes. With the aid of our patented positioning process, the accuracy of the blank position is better than 0.3mm.
Souspeed uses a gap controlled filler wire, so even boron material such as USIBOR and PHS-Ultraform can be processed.
The integrated quality control system ensures a stable process, meeting the highest quality requirements. This specially developed measuring system is an essential part of the core competence of Soutec.
In connection with the Soutec Soublog system, which was developed along the lines of industry 4.0, a UID (a Unique Identifier) can be printed on each blank. This number will serve as reference number in the Soutec Soublog system, where all production and quality data of each part are recorded.
Changes between products are made within a few minutes, maintenance work is done in 10 Minutes. The technologically advanced welding process of the system provides highest availability and best welding quality after starting up a new product.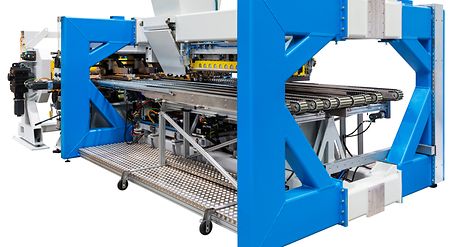 Technical data
| | |
| --- | --- |
| Parameter | Value |
| Weld seam length | 100 - 600 mm |
| Blank lenght | 100 - 600 mm |
| Welded Blank Width | 300 - 2´400 mm |
| Single Blank Width | 100 - 1´200 mm |
| Weld length to blank width ratio | 1:5 |
| Weld Speed Process | max 10m/min with filler wire |
| | - 14m/min without filler wire |
| Belt Speed | max. 30m/min |
| Minimum Cycle Time | 1.5 sec per part |
| Integrated Quality System | Souvis 5200 |
| Flipping of welded Blank | yes |
| Dimpling | yes |