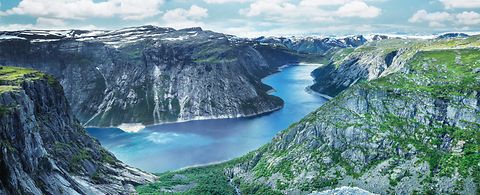 ANDRITZ HYDRO to modernize Dnipro 1 hydropower station, Ukraine
2017/03/24
ANDRITZ HYDRO, part of international technology Group ANDRITZ, was awarded a contract by state-owned utility Ukrhydroenergo for modernization of the Dnipro 1 hydropower station on the Dnieper River, Ukraine.
The project is part of a rehabilitation program financed by the European Bank of Reconstruction and Development (EBRD). The contract value for ANDRITZ HYDRO amounts to approx. 60 million euros. Completion of the project is scheduled for the end of 2021.
ANDRITZ HYDRO's scope of supply includes the complete rehabilitation of three 75 MW Francis turbines and generators, including dismantling, supply of new equipment, installation, and testing. Except for the embedded parts, all major components will be replaced by new equipment. The modernization will increase the output from 64 to 75 MW and substantially enhance reliability and safety. A hydraulic model test will allow optimum performance of the new turbines to be defined and demonstrated within the geometric conditions of the existing powerhouse.
Ukrhydroenergo owns and operates nine hydropower stations with a total of 102 turbine generator sets and a capacity of 5,744 MW on the rivers Dnieper and Dniester. After completion of this rehabilitation program, the company's contribution to the country's electricity supply will be more than 15%. Dnipro 1 was the first hydropower plant on the Dnieper River and was built between 1927 and 1932.
ANDRITZ HYDRO has been present in the Ukraine for a long time; the present project further strengthens ANDRITZ HYDRO's position in this growing hydropower market.
– End –
The ANDRITZ GROUP
ANDRITZ is a globally leading supplier of plants, equipment, and services for hydropower stations, the pulp and paper industry, the metalworking and steel industries, and for solid/liquid separation in the municipal and industrial sectors as well as for animal feed and biomass pelleting. Other important business segments include automation and service business. In addition, the international Group is also active in the power generating sector (steam boiler plants, biomass boilers, recovery boilers, and gasification plants) and in environmental technology (flue gas cleaning plants) and offers equipment for the production of nonwovens, dissolving pulp, and panelboard as well as recycling plants. The publicly listed technology Group is headquartered in Graz, Austria, and has a staff of approximately 25,200 employees. ANDRITZ operates more than 250 sites in over 40 countries.
ANDRITZ HYDRO
ANDRITZ HYDRO is one of the leading global suppliers of electromechanical equipment for hydropower plants. With over 175 years of accumulated experience and more than 31,000 turbines installed, totaling approximately 430,000 megawatts output, the business area provides the complete range of products, including turbines, generators, and additional equipment of all types and sizes – "from water to wire" for small hydro applications to large hydropower plants with out-puts of more than 800 megawatts per turbine unit. ANDRITZ HYDRO is well positioned in the growing modernization, refurbishment, and upgrade market for existing hydropower plants. Pumps (for water transport, irrigation of agricultural land, and applications in various industries) and turbogenerators for thermal power plants are also allocated to the business area.