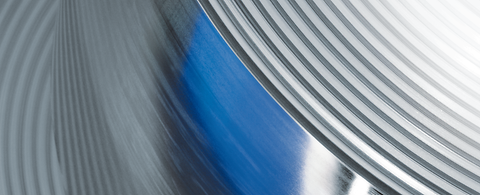 ANDRITZ to supply two new continuous annealing and processing lines to Qinghai Zhuofeng, China
2019/06/18
International technology Group ANDRITZ has received an order from Qinghai Zhuofeng New Material Co., Ltd., China, to supply two continuous annealing and processing lines, each with an annual capacity of 110,000 tons.
Start-up is scheduled for the second quarter of 2021 (line 1) and the second quarter of 2022 (line 2), respectively.
The new lines will produce high-quality, flat aluminum product for the automotive industry. They are equipped with a range of different coating technologies (Ti/Zr as well as Arconic 951) to be applied flexibly and with fast and easy change-over to suit the various needs of the automotive industry. Furthermore, the lines have been designed for lowest operating cost and prepared for installation of advanced recovery technologies from ANDRITZ. The ANDRITZ scope of supply also comprises automation and commissioning.
Qinghai Zhuofeng New Material Co., Ltd. was established in July 2017. The company is located in Ganhe Industrial Park, Xining (national level) Economic and Technological Development Zone. The total investment is 1.6 billion yuan, covering 8 km2, with an expected annual sales volume of 5.5 billion yuan.
- End -
ANDRITZ GROUP
ANDRITZ is an international technology group providing plants, systems, equipment, and services for various industries. The company is one of the technology and global market leaders in the hydropower business, the pulp and paper industry, the metal working and steel industries, and in solid/liquid separation in the municipal and industrial segments. Other important fields of business are animal feed and biomass pelleting, as well as automation, where ANDRITZ offers a wide range of innovative products and services in the IIoT (Industrial Internet of Things) sector under the brand name of Metris. In addition, the company is active in power generation (steam boiler plants, biomass power plants, recovery boilers, and gasification plants) and environmental technology (flue gas and exhaust gas cleaning plants) and offers equipment for the production of nonwovens, dissolving pulp, and panelboard, as well as recycling plants.
ANDRITZ stands for passion, partnership, perspectives and versatility – core values to which the company is committed. The listed Group is headquartered in Graz, Austria. With almost 170 years of experience, 29,000 employees, and more than 280 locations in over 40 countries worldwide, ANDRITZ is a reliable and competent partner and helps its customers to achieve their corporate and sustainability goals.
ANDRITZ METALS
ANDRITZ Metals is the technology and global market leader in forming equipment through the Schuler Group, in which ANDRITZ has a stake of more than 95 percent. Schuler offers presses, automation solutions, dies, process know-how, and services for the entire metal forming industry. Its customers include car manufacturers and their suppliers, as well as companies in the forging, household appliance, packaging, energy, and electrical industries. Schuler is also the market leader in minting technology and offers system solutions for various high-tech segments.
In addition, ANDRITZ Metals is one of the leading global suppliers of complete lines for the production and processing of cold-rolled strip made of carbon steel, stainless steel, aluminum, and other non-ferrous metals. The lines comprise equipment for pickling, cold rolling, annealing and heat treatment, surface finishing, strip coating and finishing, punching and deep drawing, and regeneration of pickling acids. The business area also supplies turnkey furnace systems for the steel, copper, and aluminum industries, burners and refractory products, welding systems, as well as comprehensive services for the metal working industry.