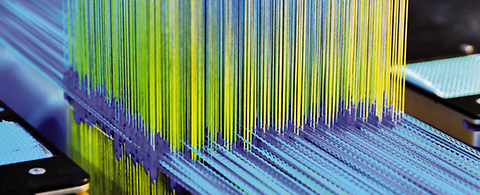 Technopress dewatering belts
The ideal product for high-pressure twin wire presses
Technopress belts have been specially developed for heavy duty presses and are made of 100% polyamide.

The belts deliver a high outlet consistency in combination with high dimensional stability and high resistance against pressures of up to 300 N/mm.

The strong wire diameter and the use of polyamide, combined with an optimized single-layer structure, enable Technopress to meet the demanding requirements of pulp dewatering. Additional features include a non-slip fabric with high dimensional stability, guaranteed by thorough heat-setting.

For improved retention of fibers, we offer alternatives with an additional filling weft. This improves the surface of the fabric without diminishing the high dewatering capacity.

The benefits of installing Technopress fabrics include consistently high dewatering performance, durability (pressure- and abrasion-resistance supported by a 1.2 mm yarn diameter with a specific polyamide), long service life due to a high wear volume on the machine side, high dimensional stability, high retention of fibers with the filling weft design, and excellent protection thanks to the fabric's strong extruded edge.